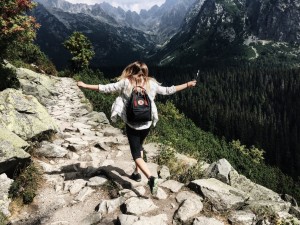 1. Kelly was the Chick-fil-A Cow at the Chick-fil-A in Allen, Texas for 5 years.
If you drove on McDermott Road in Allen, Texas between 2004-2009 and saw a Chick-Fil-A Cow shaking their tail feather... that was Kelly.
2. Up until she married her husband, Kelly was a frequent "sock mismatcher".
If the socks were both short, it didn't matter the brand color, Kelly just picked two and wore them. Sometimes they showed when she was wearing her tennis shoes. But, she can assure you, she knows the difference between Left and Right.
3. When Kelly was a kid, she played softball and volleyball.
Kelly always loved playing on a team, because she is so competitive. She always wanted WIN!
4. Kelly played the clarinet in the marching band at Plano Senior High School.
When Kelly was in the 6th grade, she got to pick out her own instrument. The band director asked her if she was a "people person"... to which Kelly replied, "Well, all of these people in this try out room are my friends!". The band director said that the Clarinet would be a good instrument since she was a social butterfly. Some of Kelly's favorite memories at Plano Senior High School was the marching band. She loved the football games, fun band traditions, and marching competitions.
5. In college Kelly was very involved in the follow: Traditions Council, Big Jacks, SFA 101 Student Teacher, and a grader for the math department.
When Kelly became a Stephen F. Austin State University Lumberjack, she was told at freshman orientation that in order to be successful in college, she should be involved. Because Kelly always had school spirit in high school, she naturally became school spirited in college. Kelly always loved the traditions, being involved in the community, and educating others (whether it was Math, SFASU, or just life).
6. When Kelly was 15, she saved up all of her babysitting money to pay her own trip to France and Spain.
Ever since Kelly was a little girl, she had always wanted to go to France. Maybe it was because she watched "Madeline", or how beautiful the language was, but when Kelly found out that she had the opportunity to go, she HAD to go. But her parents told her, "If you want to go to France, you have to save up your money to do so." So, Kelly was on a mission. She made her own babysitting magnets and put them in her neighbors' mailboxes. That way, when they opened up the mailbox to get their mail, the magnet advertising Kelly's babysitting business was the first thing they saw. She babysat every single weekend, and when it was New Year's Eve or Valentine's Day, she would babysit three different shifts of families throughout the day.
7. Kelly has been to the following countries: Canada, France, Spain, Costa Rica, Haiti, Belize, Honduras, and Mexico.
From above, Kelly went a class trip to France and Spain when she was 15. Kelly went on a mission trip to Haiti to educate about clean water, and how to assemble water filters. She went to Belize, Honduras, and Mexico for her honeymoon. Kelly has family in Buffalo, New York and would go to family reunions in Canada. She went to Costa Rica with one of her best friends throughout the entire country, and Monteverde and Arenal are her favorite cities in Costa Rica.
8. Favorite animal is the sea otter.
Kelly loves the way that the sea otter swims, and they have funny personalities!
9. Kelly has a nephew named Lucas.
The day Lucas was born was the same day as Kelly's grandparent's 75th wedding anniversary and Lucas's great-grandfather's 75th birthday.
10. When Kelly taught, she was known as the teacher who wore tutus to pep rallies.
During her second year of teaching, Kelly had a class who she brought to the morning pep rallies, and they had loads of school spirit. So, when the school year ended, she teamed up with two other teachers and kept the tutus a secret until the first pep rally of the new school year. The whole school was shocked as these three masked, matching tutu teachers showed their school spirit. The students, faculty, and staff still talk about the tutus to this day!
---
Kelly Raulston

"Reliable and Ready" REALTOR® since 2016. I was born in Monroeville, Pennsylvania, but was raised in Texas since 1997. When I found out we were moving to Plano, Texas, I remember looking forward to riding a horse to school and a brand-new pair of cowboy boots! Growing up in Plano prepared me to be competitive, quick, and to have a strong work ethic. I graduated from Stephen F. Austin State University in Nacogdoches, Texas. Axe'em Jacks! That is where my love for East Texas began. The nature, warm smiles, football games, and community values can't be beat! I graduated summa cum laude with a degree in Interdisciplinary Studies. I was a middle school math teacher in Tyler, Texas. I met my husband, Travis, in Sunday school, and we have been married since September 2016. I love being a REALTOR® in East Texas! Relationships are genuine, the area is beautiful, and the market is rockin'! I am an involved REALTOR® to better the community. Some of the organizations I am involved with are: The Professional Development Committee, Texas Real Estate Political Action Committee, and Tyler Educational Networking Group. Some awards I have won were "The Hustle Award" in 2016, and "Rookie of the Year" in 2017. When I am not working with my clients, I like to spend quality time with my friends and family doing the following: running, target practice, read and participate in book club, and playing with my dachshund Greta.