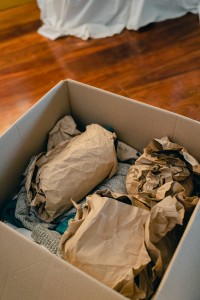 Depending on the age of your home, storing items in the attic may cause more problems than solutions. Especially during Texas summers, the attic can be HOT HOT HOT. With East Texas also comes humidity, and possible pests as well! By storing items in the attic, you could potentially:
Ruin fabrics
Damage furniture
Void safety devices
My husband, Travis, and I live in a very old Victorian home, and our attic access is approximately 2ft x 2ft square. We have an additional 10-11ft of height to the top of our home. However, Travis and I are really trying to not hold onto excess items we don't need. I know many friends and family members who use their attic for storage. Take a look below to see what items I suggest you should not store vs. store in your attic.
Never Store These Items In Your Attic:
Anything made of fabric
Art
Art Supplies
Batteries
Books
Candles
Cardboard Boxes
Cosmetics
Documents
Electronics
Fire extinguishers
Flammable Chemicals
Food
Instruments
Leather
Medication
Paint
Photos
Wooden furniture
What about Holiday Décor?
Some people think it is ok to store the Christmas tree and holiday garlands in the attic as long as they are wrapped up. However, fabrics, old ornaments, handmade treasures, should probably be stored inside the home.
Possible Items to Store In Attic
Nonporous and nonbiodegradable items
Ceramics
Glass
Metal
Plastics (certain types)

Items should be in an air-tight resealable bag and then in a stackable container.

Use CLEAR plastic container so you know what is inside.
When you go into your attic, and you see items STILL in boxes from when you moved into your home and it's been weeks, months, years... maybe this would be a good time to reflect and truly think if you ACTUALLY still need those items. Maybe letting go of unnecessary items could make your home even better. Maybe your items could be something that one of your neighbors have been dreaming of owning! You never know! :)
---
Kelly Raulston

"Reliable and Ready" REALTOR® since 2016. I was born in Monroeville, Pennsylvania, but was raised in Texas since 1997. When I found out we were moving to Plano, Texas, I remember looking forward to riding a horse to school and a brand-new pair of cowboy boots! Growing up in Plano prepared me to be competitive, quick, and to have a strong work ethic. I graduated from Stephen F. Austin State University in Nacogdoches, Texas. Axe'em Jacks! That is where my love for East Texas began. The nature, warm smiles, football games, and community values can't be beat! I graduated summa cum laude with a degree in Interdisciplinary Studies. I was a middle school math teacher in Tyler, Texas. I met my husband, Travis, in Sunday school, and we have been married since September 2016. I love being a REALTOR® in East Texas! Relationships are genuine, the area is beautiful, and the market is rockin'! I am an involved REALTOR® to better the community. Some of the organizations I am involved with are: The Professional Development Committee, Texas Real Estate Political Action Committee, and Tyler Educational Networking Group. Some awards I have won were "The Hustle Award" in 2016, and "Rookie of the Year" in 2017. When I am not working with my clients, I like to spend quality time with my friends and family doing the following: running, target practice, read and participate in book club, and playing with my dachshund Greta.