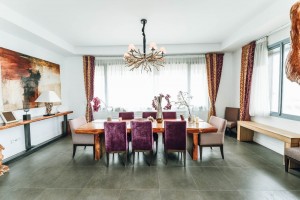 There are people out there who absolutely love an open concept, and like to have just the amount of square footage you need. But then there are times, that you need just a little more space; a bonus room.
The Formal Dining Room
Many people discovered within the past 12-18 months that the dining room could be more than just a dining room. Personally, I love a dining room. I love when I am entertaining being able to have my friends all sit down at the same table. I love when I have a lot of work to do to have the ability to stretch out. I love being able to have the space to customize it for whatever I need.
Before you start revamping the "bonus room", consider the following:
Your needs
What do the members of your home need? Space for to work on paperwork? Space designated for toys and playtime? Space for storage?
Your hobbies
Do one of the members of your home have a hobby? Are they committed to that hobby? Does the hobby require extra space?
Your budget
There is a difference between moving furniture, and completely redesigning the room. Talk about budget, what all needs to be altered or added in order to make the space work.
Alternative Ideas for the Bonus Room From A to Z
(minus U and X.... unless you play the ukulele or xylophone as a hobby)
Aquarium room

Art Studio

Bar and Cocktail Space

Classroom

Drawing Room

Extra Closet

Fitness Room

Guest Room

Home Theater

Indoor Plant Room

Jigsaw Puzzle Room

Kid Zone

Library

Man Cave

Music Room

Nursery

Office

Pet Space

Pantry

Quilting Room

Radio Control Hobby Room

Scrapbooking Spot

Sewing Room

She Space

Train Station Room

Table Tennis/ Pool Table

Video Game Room

Writing Room

Yoga Studio

Zumba or Dance Studio
---
Kelly Raulston

"Reliable and Ready" REALTOR® since 2016. I was born in Monroeville, Pennsylvania, but was raised in Texas since 1997. When I found out we were moving to Plano, Texas, I remember looking forward to riding a horse to school and a brand-new pair of cowboy boots! Growing up in Plano prepared me to be competitive, quick, and to have a strong work ethic. I graduated from Stephen F. Austin State University in Nacogdoches, Texas. Axe'em Jacks! That is where my love for East Texas began. The nature, warm smiles, football games, and community values can't be beat! I graduated summa cum laude with a degree in Interdisciplinary Studies. I was a middle school math teacher in Tyler, Texas. I met my husband, Travis, in Sunday school, and we have been married since September 2016. I love being a REALTOR® in East Texas! Relationships are genuine, the area is beautiful, and the market is rockin'! I am an involved REALTOR® to better the community. Some of the organizations I am involved with are: The Professional Development Committee, Texas Real Estate Political Action Committee, and Tyler Educational Networking Group. Some awards I have won were "The Hustle Award" in 2016, and "Rookie of the Year" in 2017. When I am not working with my clients, I like to spend quality time with my friends and family doing the following: running, target practice, read and participate in book club, and playing with my dachshund Greta.