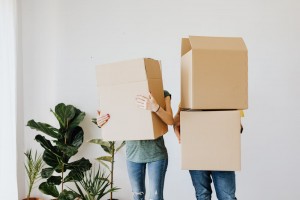 You did it! You finally bought the home you have always wanted. You are meeting the movers over at the house tomorrow morning, and the weather is going to be fabulous! You have already started switching utilities over, and you are working on changing your address. Change your address on everything.
As you are meeting the movers over at your new home, I also recommend having a professional do the following:
Change the locks on your home. You don't know who has the key for your home. You don't know how many duplicate keys there are of your home. There are even home warranty companies that will change the locks for a fee.
Change the code on the garage door opener. It may take a little time, but again, you don't know how many people know the code of the garage door opener.
If the home has a security system, contact the company. Determine if you want to maintain service or cancel. This also goes for any camera that is in the home.
Change the air filter. Even if the sellers already changed it, its good to start fresh.
Change the batteries in the smoke detectors. That way, you know the batteries are fresh, and you can better plan for when the batteries go out. Why is it that the batteries always go out at 3:00am?!? Like seriously.
Change the toilet seat lids. Need I say more?
Are there other items you need to take care of as you adjust to living in your new home, of course! But, it's your home, give yourself time to complete other items, and complete what you can from the list of six.
Congratulations! I can't wait to see how you make this house into your home!
---
Kelly Raulston

"Reliable and Ready" REALTOR® since 2016. I was born in Monroeville, Pennsylvania, but was raised in Texas since 1997. When I found out we were moving to Plano, Texas, I remember looking forward to riding a horse to school and a brand-new pair of cowboy boots! Growing up in Plano prepared me to be competitive, quick, and to have a strong work ethic. I graduated from Stephen F. Austin State University in Nacogdoches, Texas. Axe'em Jacks! That is where my love for East Texas began. The nature, warm smiles, football games, and community values can't be beat! I graduated summa cum laude with a degree in Interdisciplinary Studies. I was a middle school math teacher in Tyler, Texas. I met my husband, Travis, in Sunday school, and we have been married since September 2016. I love being a REALTOR® in East Texas! Relationships are genuine, the area is beautiful, and the market is rockin'! I am an involved REALTOR® to better the community. Some of the organizations I am involved with are: The Professional Development Committee, Texas Real Estate Political Action Committee, and Tyler Educational Networking Group. Some awards I have won were "The Hustle Award" in 2016, and "Rookie of the Year" in 2017. When I am not working with my clients, I like to spend quality time with my friends and family doing the following: running, target practice, read and participate in book club, and playing with my dachshund Greta.