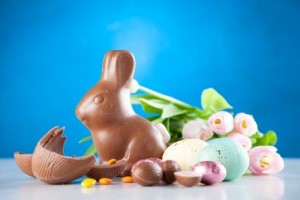 Many families during Easter celebrate with an Easter Egg Hunt and Easter Baskets.
I hear all the time about how much
money my friends spend on the Easter eggs and baskets
time they have to commit to doing an Egg Hunt
… all for 15 minutes of outdoor fun(tops).
Then result is a sugar rush, stepping on small toys, and the infamous "I wanted what they got" argument. But, maybe this year, you are trying to limit the amount of "egg-cess" items. Maybe you don't want to have the candy around the house, or the little toys and trinkets that the kiddos will play with for 5 minutes (tops). Instead of spending money on
Candy
Baskets
Toys
Basket Filling
Plastic Eggs
Junk
Why not take all of the money you were going to spend, and purchase ONE gift the family would love to have? Now of course, this one gift can turn into many purchases along the way
Pet: pet food, veterinarian appointments, pet toys, etc.
Technology: updates, accessories, etc.
Trip: items for the trip, time to take off of work, etc.
Once you and other monetary decision makers decide on the ONE gift, then print out a picture of the item, cut it up, and have a scavenger hunt to put the pieces together. Maybe you could find a simple puzzle with the item already on there.
If you want to make it "egg" themed, of course you can put the pieces of the big-ticket item picture in the plastic eggs, and have the Easter Egg Hunt.
Just an idea to help you eliminate clutter, and keep your mind on the TRUE reason Easter is celebrated.
Happy Good Friday! I hope you have a Happy Easter this Sunday!
---
Kelly Raulston

"Reliable and Ready" REALTOR® since 2016. I was born in Monroeville, Pennsylvania, but was raised in Texas since 1997. When I found out we were moving to Plano, Texas, I remember looking forward to riding a horse to school and a brand-new pair of cowboy boots! Growing up in Plano prepared me to be competitive, quick, and to have a strong work ethic. I graduated from Stephen F. Austin State University in Nacogdoches, Texas. Axe'em Jacks! That is where my love for East Texas began. The nature, warm smiles, football games, and community values can't be beat! I graduated summa cum laude with a degree in Interdisciplinary Studies. I was a middle school math teacher in Tyler, Texas. I met my husband, Travis, in Sunday school, and we have been married since September 2016. I love being a REALTOR® in East Texas! Relationships are genuine, the area is beautiful, and the market is rockin'! I am an involved REALTOR® to better the community. Some of the organizations I am involved with are: The Professional Development Committee, Texas Real Estate Political Action Committee, and Tyler Educational Networking Group. Some awards I have won were "The Hustle Award" in 2016, and "Rookie of the Year" in 2017. When I am not working with my clients, I like to spend quality time with my friends and family doing the following: running, target practice, read and participate in book club, and playing with my dachshund Greta.