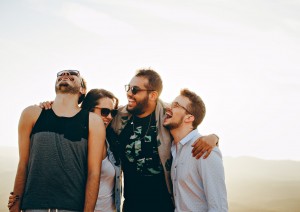 Every expert has once been a beginner. I am a human. I am not perfect. I know that people love to be entertained, and appreciate REAL people.
Many real estate agents have locked themselves out of the home they are showing. Many have set off a home alarm. The story I am about to share has actually happened to me during a recent home showing appointment.
Chapter One: License Please
My day was jam-packed with appointments, and commuting from multiple cities. A lender had recently referred me first time home buyers, and they were excited about the home buying process. I scheduled an appointment 2 days prior with the listing agent and confirmed the appointment right before showing. This was the first home showing for these buyers. As always, especially at the first appointment, I want it to go as smooth as possible. You only get one time to make a great first impression. I plugged the property address into my phone. For the story, the made-up address of the home was at 123 Blank Street. As soon as I arrived to the city, my phone directed me to turn left onto Blank Street.
I thought I pulled up to 123 Blank Street. Across the street was 124 Blank Street. There was no real estate sign at the property, and I saw a man working on the house. I looked at the picture, and there were some similarities about the house. I assumed that the owner was making improvements to the home to attract more buyers. I called the listing agent, and asked her if anyone was working on the property, and where the sign was. It turns out, that although the home at 124 Blank Street was across the street, I was at the wrong address. Don't you just love smartphones sometimes!? I apologized for the confusion, got back out onto Blank Street, and found 123 Blank Street.
I pulled up to the house 2 minutes later, and my client was there. I took off my seatbelt, and my nametag got stuck under my seat. Great! I looked across the street and the home addresses were 123A and 123B Blank Street. I made a comment about how confusing that was, and we laughed for a moment. I could tell immediately that the property condition of the home was not going to bode well with the appraiser. My client was also a little disappointed in the property condition because the pictures did showcase the home realistically. But my client and I drove 40 minutes to see the house, and there were no interior pictures of the home. The agent had given me the combo, and I just spoke to the agent two minutes prior. I opened the lockbox, left the lockbox open, opened the door, put the key in my pocket, yelled "REALTOR®" into the house (from previous experiences), and started showing the house.
My client and I were in the kitchen, and I heard three loud knocks. I jumped a little bit because I was not expecting anyone else to show the house. So, I ignored it. As I was going over how some of the items in the kitchen would most likely need to be repaired, I saw movement by the window. Then I heard three more loud knocks. I was freaked out! My client was freaked out. So, we walked up to the front door, I unlocked the lock and yelled "I'm a REALTOR®" outside the front door. Then, I was shocked by what appeared before my eyes.
Three police officers greeted me that the door, and they politely, but sternly informed me that there was a report that I was stealing items from the home. With my heart beating out of my chest, hands in the air, I told them "That was not what was happening"!! They asked for my driver's license. I provided them and my real estate license and a business card with all of my information on it. It turns out, it the two minutes it took me to drive to the house, the listing agent had asked the seller if anyone was working on the home, and the seller called the police. The police wanted to walk through the home to double-check that no one was hiding. I was so embarrassed! This was the FIRST home showing for my client, and I'll say it left a lasting memory. The officers joked that they hoped they didn't scare my client from making an offer on the home. Needless to say, I did not write up an offer on that home.
What Did I Learn from This Story?
Even though Smartphones are smart, you still have to rely on yourself and your surroundings.
Confirm with the listing agent that they informed the seller about miscommunication.
Nametags Help! I am so thankful I had my real estate license and business with me!
At the end of the day, I am human. I am going to make mistakes! But, if you can learn from the mistakes, then not all is completely lost. Trust me, there will be more chapters of Embarrassing Home Showing Moments of Kelly Raulston. Hope you enjoyed it!
---
Kelly Raulston

"Reliable and Ready" REALTOR® since 2016. I was born in Monroeville, Pennsylvania, but was raised in Texas since 1997. When I found out we were moving to Plano, Texas, I remember looking forward to riding a horse to school and a brand-new pair of cowboy boots! Growing up in Plano prepared me to be competitive, quick, and to have a strong work ethic. I graduated from Stephen F. Austin State University in Nacogdoches, Texas. Axe'em Jacks! That is where my love for East Texas began. The nature, warm smiles, football games, and community values can't be beat! I graduated summa cum laude with a degree in Interdisciplinary Studies. I was a middle school math teacher in Tyler, Texas. I met my husband, Travis, in Sunday school, and we have been married since September 2016. I love being a REALTOR® in East Texas! Relationships are genuine, the area is beautiful, and the market is rockin'! I am an involved REALTOR® to better the community. Some of the organizations I am involved with are: The Professional Development Committee, Texas Real Estate Political Action Committee, and Tyler Educational Networking Group. Some awards I have won were "The Hustle Award" in 2016, and "Rookie of the Year" in 2017. When I am not working with my clients, I like to spend quality time with my friends and family doing the following: running, target practice, read and participate in book club, and playing with my dachshund Greta.