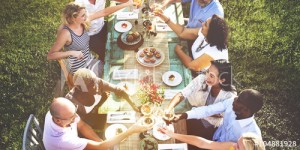 My husband and I are thankful we live in a neighborhood that's close to coffee shops, pharmacy, The Square in Tyler, and a great commute for both of our jobs. But we are also thankful for our neighbors. Not only have we been invited over for Thanksgiving, received wonderful saint augustine grass, but we also appreciate just the simple wave "hello"! In a time where so many people hide behind a computer screen, I think it is so important to get to know the people who live in your neighborhood.
Sure, there are many cutesy ways on the internet that you can introduce yourself, but whatever happened to the old fashion "hello"? Your neighbors will see the moving truck, and the boxes, and the many trips back and forth to the house, so they will know you are new. Once you get settled in, I encourage you to introduce yourself to the neighbors! Do you have to have a lavish neighborhood bash… no! Just an introduction, a cup of coffee, or a simple conversation by the mailbox can help create a new relationship. Neighbors can keep an eye out for a missing dog, or help with vacation needs, but they can also become some wonderful friends. I'll never forget when I first moved into my duplex before I was married, I had some wonderful friends stock my pantry and refrigerator. That was such an amazing gift that I truly appreciated!
I have had clients in the past say that the most difficult part about leaving their home was leaving their neighborhood friends. Do you know your neighbors? It's not too late! Say hello. Strike up a conversation, and who knows what difference it will make in your life of their life.
---
Kelly Raulston

"Reliable and Ready" REALTOR® since 2016. I was born in Monroeville, Pennsylvania, but was raised in Texas since 1997. When I found out we were moving to Plano, Texas, I remember looking forward to riding a horse to school and a brand-new pair of cowboy boots! Growing up in Plano prepared me to be competitive, quick, and to have a strong work ethic. I graduated from Stephen F. Austin State University in Nacogdoches, Texas. Axe'em Jacks! That is where my love for East Texas began. The nature, warm smiles, football games, and community values can't be beat! I graduated summa cum laude with a degree in Interdisciplinary Studies. I was a middle school math teacher in Tyler, Texas. I met my husband, Travis, in Sunday school, and we have been married since September 2016. I love being a REALTOR® in East Texas! Relationships are genuine, the area is beautiful, and the market is rockin'! I am an involved REALTOR® to better the community. Some of the organizations I am involved with are: The Professional Development Committee, Texas Real Estate Political Action Committee, and Tyler Educational Networking Group. Some awards I have won were "The Hustle Award" in 2016, and "Rookie of the Year" in 2017. When I am not working with my clients, I like to spend quality time with my friends and family doing the following: running, target practice, read and participate in book club, and playing with my dachshund Greta.