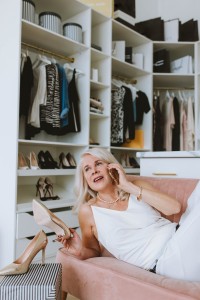 Once upon a time, I was a frequent shopper. I would go out every weekend, and buy. It didn't matter what I bought, I just bought. Clothing, home décor, office supplies, gifts, treasures, etc.
Items I thought were cute.
Items I thought I couldn't live without.
Items.
Stuff.
Junk.
I liked shopping because of the whole experience. It was a great way to spend time with friends. It was a great way to socialize. It was a great way to visit new businesses. It was a great way to waste time. It was a great way to avoid responsibilities. Weekend by weekend, I would continue to add more items in my home. My closets would become fuller. I would need an excuse to buy stuff to store my stuff. I didn't think I had an issue, until it was time for me to move.
My husband and I chose to purchase an old Victorian home. We were so excited about all of the features the home had that we wanted, we didn't even think about closets. We didn't even look at closets. In fact, it wasn't until moving day that I discovered there was a closet in our bedroom. We bought the home. The keys were ours. It was time to pack. I opened the closets… and there was SO MUCH STUFF.
Things I…
Needed to save
Were passed down but not displayed
Seasonal Clothing
Etc. Etc. ETC.
So, Travis and I make three piles: Keep, Donate, Trash. By the end of it, we had more items in the donate and trash section than I expected. We moved the "keep" pile into our home, and I decided to make a decision.
I was only going to keep things in my new home that I really wanted, used, or knew I was going to use.
If I didn't want it anymore, I "re-homed" it. Whether it was friends, resale, or the trash can.
How Did I Survive with Small Closets?
Clothing
In our primary bedroom, my husband and I shared a closet that is equivalent to some people's front hall closet. He got the bottom rail, and I got the top rail. We also had a dresser, and at one point an armoire, but changed to a shelving unit. We kept things that could be folded in drawers, and shoes and accessories on the shelving unit. But Project 333 really made an impact on my life.
In summary, you can only have 33 clothes in your closet. After 3 months, you can switch out the clothing, but you can only have 33.
You can be as strict or lenient with this project. The stricter you are, the less clothing you will have. For me, because I frequently go to the gym (at least 5 days a week), I didn't count workout clothes and undergarments in my 33 items.
What was cool about this is that it made me be more creative with my clothing combinations. But more importantly, it built my confidence up. I didn't have to have a different outfit everyday to be well liked. My friends and clients like me for me. Who cares if you only have two pairs of jeans?
Décor
We adopted the "less is more" style. We had less items, but they were items that sparked joy with us, and made an impact in the room. Our holiday décor was just collecting dust. With our jobs, we really did not have time to decorate. Now, don't get me wrong, Travis and I love decorated homes. But, in my opinion think having one beautifully lit Christmas tree and candles is better than an entire room full of holiday treasures.
Passed Down Items
Ah yes. Right after the time that we moved into our home, I lost both of my grandmothers, and my parents got divorced. So, there was an influx of
Do you want this? It was your grandmothers
Do you want this? You loved it as a child.
Do you want this? I don't want this anymore, so you take it.
A lot of the time, I took the items because it was easier for family members transitioning into their new chapter. I loved the items. I displayed the items. I kept the items because "they were family members".
Look, if you love the item, and it brings you joy, keep it.
If you are keeping it to make someone happy, then I suggest you reevaluate. It's your home, your space.
Put yourself in this scenario. We find the perfect house, with the perfect location. The home price is within your budget. Are you going to let the amount of items you "have to keep" in your home help with your home search, or hinder your home search?
I'm ready when you are!
---
Kelly Raulston

"Reliable and Ready" REALTOR® since 2016. I was born in Monroeville, Pennsylvania, but was raised in Texas since 1997. When I found out we were moving to Plano, Texas, I remember looking forward to riding a horse to school and a brand-new pair of cowboy boots! Growing up in Plano prepared me to be competitive, quick, and to have a strong work ethic. I graduated from Stephen F. Austin State University in Nacogdoches, Texas. Axe'em Jacks! That is where my love for East Texas began. The nature, warm smiles, football games, and community values can't be beat! I graduated summa cum laude with a degree in Interdisciplinary Studies. I was a middle school math teacher in Tyler, Texas. I met my husband, Travis, in Sunday school, and we have been married since September 2016. I love being a REALTOR® in East Texas! Relationships are genuine, the area is beautiful, and the market is rockin'! I am an involved REALTOR® to better the community. Some of the organizations I am involved with are: The Professional Development Committee, Texas Real Estate Political Action Committee, and Tyler Educational Networking Group. Some awards I have won were "The Hustle Award" in 2016, and "Rookie of the Year" in 2017. When I am not working with my clients, I like to spend quality time with my friends and family doing the following: running, target practice, read and participate in book club, and playing with my dachshund Greta.