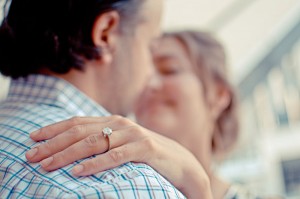 I love fine jewelry. I love how I can have a simple outfit, and add a piece of quality jewelry, and I feel like a millionaire. I would much rather have less jewelry, and it is beautiful quality than a ton of lesser quality pieces.
I will never forget the first time that I went to Blue House of Jewelry. I had driven by the store multiple times as I was showing homes in south Tyler, Flint, and Bullard. Every time I would drive by, I told myself that I had to stop in the next time I had a chance. Well, I was on my way to a home showing appointment, and my client at the time called and had to reschedule their appointment. I finally had an opportunity!
In the past, when I walked into jewelry stores, I always felt an overwhelming pressure to buy something. The sales reps at the other stores would follow me around, and try to make small talk, and I couldn't stand that. I wanted to have the freedom to look first, and then if something caught my eye, I would ask to try it on. I also wanted the conversation to feel genuine, and not like a "how to sell jewelry" script.
When I walked into Blue House of Jewelry, I was quick to say "I have a spare moment, I have always wanted to come to your store, but I am just looking today" to Tina Yancey, the owner of Blue House of Jewelry. Tina took the opportunity to just get to know me like a normal person but gave me the space I needed. Tina was also warm, welcoming, and made me feel comfortable being there. Also, the store itself is stunning! I quickly noticed that the jewelry was unique, wearable, caught my eye, fashion-forward, and all different price ranges. Tina let me try on all of the pieces of jewelry that caught my eye… and it was a lot!
Whenever I come into the store, Blue House of Jewelry always offers to clean and check on my rings that I am wearing. In fact, thanks to Tina, she found out that a diamond in my stacker band was extremely loose, and was about to fall out. I would have been devasted. I am so thankful for Blue House of Jewelry.
Who Is Tina Yancey?
Tina Yancey has owned her own jewelry shop for 19 years. During that time, she has owned three stores: Silver Lady Jewelry, Bridal Registry & Gift Shop, Merle Norman Cosmetics & Fashion Boutique, and Blue House of Jewelry. Her first job was working in a department store in the jewelry department at 16 years old. By the time she was 17, Tina was the manager of that department. She has always loved jewelry and been fascinated with rocks/gemstones her entire life. Whenever she takes a vacation, she is mostly interested in what rocks she could bring back home. When she visited Alaska several years ago, Tina had to bring back her purchased rocks in backpacks to carry on because her luggage would have weighed too much!
What Is Blue House of Jewelry?
Blue House of Jewelry is a jewelry store specializing in unique jewelry meeting all budgets. They have jewelry for women and men, children and adults, and the young at heart to old souls. They offer fine diamond and rare gemstone jewelry, budget-friendly lab-grown moissanite jewelry, and fun gold plated and sterling silver jewelry. Blue House of Jewelry showcases jewelry from sought out designers, including Gorjana, Ania Haie, Melinda Maria, Samuel B, Officina Bernardi, Lafonn and many more.
What Are The Store Hours?
Tuesday - Friday 10-5:30 and Saturday 10-5:00.
What is Tina Yancey's Favorite Gemstone?
Colored gemstones are an addiction of hers. Tina's favorite color is BLUE and her favorite gemstone is the Cambodian Blue Zircon. She purchases rare gemstones and design jewelry around them for the shop
What is Tina Yancey's Favorite Style of Jewelry?
Bridal Jewelry is one of Tina's favorites! Wedding rings are an emblem of love through time, a symbol of devotion and an agreement between two parties to love and cherish one another for the rest of their days. From couples who want to become engaged to couples who want to celebrate the many years of matrimony, Blue House of Jewelry has you covered! Whether it is your first engagement ring, or updating a wedding ring or upgrading to a different setting and stone, Blue House of Jewelry will be with you every step of the way. They understand that economic status in life changes, and welcome you to change up your original wedding ring if that is what you want! They offer many lines of Bridal including unique Little Bird, Stuller, Ever & Ever Bridal, Roman & Jules, Overnight, House of Baguettes, Parlé and more. Blue House of Jewelry also can create your own custom design! They can guide you through every step of the way from drawing, designing, and creating.
What else does Blue House of Jewelry Have to Offer?
Fine jewelry sales, repairs, insurance approved certified appraisals and financing with approved credit.
All and all, I love supporting local businesses. If Blue House of Jewelry was open when I got engaged, I would have absolutely purchased my wedding set from there. Tina Yancey is an absolute jewel in my life, and I am incredibly grateful for her. Also, if you see a local business that you have always wanted to go into, then try it out! You never know what can happen, what friendships can form, and what joy can come to your life.
---
Kelly Raulston

"Reliable and Ready" REALTOR® since 2016. I was born in Monroeville, Pennsylvania, but was raised in Texas since 1997. When I found out we were moving to Plano, Texas, I remember looking forward to riding a horse to school and a brand-new pair of cowboy boots! Growing up in Plano prepared me to be competitive, quick, and to have a strong work ethic. I graduated from Stephen F. Austin State University in Nacogdoches, Texas. Axe'em Jacks! That is where my love for East Texas began. The nature, warm smiles, football games, and community values can't be beat! I graduated summa cum laude with a degree in Interdisciplinary Studies. I was a middle school math teacher in Tyler, Texas. I met my husband, Travis, in Sunday school, and we have been married since September 2016. I love being a REALTOR® in East Texas! Relationships are genuine, the area is beautiful, and the market is rockin'! I am an involved REALTOR® to better the community. Some of the organizations I am involved with are: The Professional Development Committee, Texas Real Estate Political Action Committee, and Tyler Educational Networking Group. Some awards I have won were "The Hustle Award" in 2016, and "Rookie of the Year" in 2017. When I am not working with my clients, I like to spend quality time with my friends and family doing the following: running, target practice, read and participate in book club, and playing with my dachshund Greta.