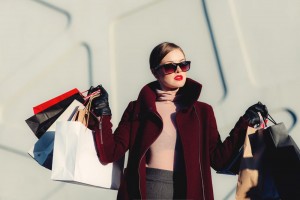 In The Beginning
I have had a job ever since I was 12 years old, which was not common when I was growing up. I wanted to make money at a young age so I could by my own things, and not depend on my parents. My parents wanted to raise a daughter who would become an independent lady when she grew up. Now, my parents still provided for me. However, I have always had the motivation to buy my own items. In regards to shopping, my mother taught me two things:
Quality classic pieces never go out of style. You might have to spend a little more for quality, but they will last longer
Always check the clearance section.
This advice was helpful, however, when I was in middle school, labels were everything. So, I always tried to find clothing that had the "cool label" so that I would fit in. Of course, the "cool label" had a high price tag. Therefore, whenever I would go into a store, I go directly to the clearance section first.
Challenges I Encountered and My Shopping Strategy
One challenge about going to the clearance section first is discovering all of the "good deals". Now, I am not talking about actually finding a good deal. I am referring to finding something that you are not 100% in love with, and buying it because it is marked down so much. Then, closets become overfilled of clothes that people are not 100% happy with because it was a "good deal". If I do not 100% love an item, I don't buy it. This is part of my shopping strategy.
My shopping strategy did not happen overnight. It took many years to realize that I do not have to own 1000 pieces of clothing to be happy. Not including undergarments, coats, or athletic wear, I currently own less than 33 items. The lifestyle is called "The Thirty-Three, Three". This means, at one time, I own 33 items. In 3 months, I can choose to get new items, however, I can only have 33 at a time. I know, it is shocking. But, honestly, I wear my clothing more (duh), and nothing gets hidden in the closet. I also realized I needed less clothing because of the home my husband and I fell in love with.
My husband and I have an old Victorian home. I believe that during that time, people did not have as much clothing. This is what I have had to tell myself over the years because in our 2330 square foot home, I thought we only had two closets in the whole house. For real. But, as we were moving items into our home, I discovered a closet that was hidden behind a door. So, that brought the grand total up to three closets. Now, Travis and I do have a dresser and a shoe rack. But I get one clothing rod, and Travis gets the other. Because of this, I only have space to put quality items that I 100% love; without breaking the bank.
My Favorite Places to Shop in Tyler, Texas
I love designer clothing, designer bags, and fine jewelry. Absolutely LOVE it. If I was a millionaire, I would completely forget my shopping strategy, and buy all the pretty things. But, surprise surprise, I am not a millionaire. So, what is a girl to do in Tyler, TX who:
Loves designer clothing.
Does not have the closet space for "meh" items.
Does not want to spend an arm and a leg.
I have two hidden gems for you ladies: My Sister's Room, and Clothes Mentor.
My Sister's Room
If you are someone who loves: Louis Vuitton, David Yurman, Fendi, Christian Dior, Christian Louboutin, Prada, Burberry, Jimmy Choo, Chanel… then this is the consignment store for you. If you follow My Sister's Room on social media, they are pretty good about showcasing designer items they have. Some of these items have been used, some are new, and some items go so quickly that they don't even make it to the shelf. You can consign items there, however, I have personally not consign an item at the store. They have clothing that ranges from a classic t-shirt to ballgowns. If you are someone who appreciates vintage, unique, and quality, this store has it. Some days, I walk in there, and I am not called to any of the clothing. Other days, I hit the jackpot. One of my shopping victories was purchasing a pair of Coach chocolate-colored ankle boots that were never worn, for $35. That's winning in my book.
Clothes Mentor:
This store has more volume of clothing and is great for everyday wear. They also have quality clothing, with great brands: Loft, White House Black Market, Neiman Marcus, Sam Edelman, boutiques and also items from Old Navy, Target, etc. Y'all, I have purchased a Neiman Marcus maxi dress that still had the tags on it ($150) and bought it for $12.00. I encourage you to follow them on social media. The sales they have are pretty phenomenal as well. My favorite is Black Friday for sure. Another shopping victory was finding several tops on sale, for $1.00! When was the last time you have heard about getting a top for a dollar? I frequently sell items at clothes mentor. They can offer you cash or store credit (which you get more money if you choose store credit). The best part about going to a Clothes Mentor franchise is that no two Clothes Mentor shops have the same inventory. So, if you are wanting to shop in different cities, see if there is a Clothes Mentor in the area.
Before I Purchase an Item
I try it on, and inspect the following:
Is it a quality brand that I could resale if I wanted to?
Are the original tags still on the item?
Is the color faded?
How does the item fit? I only buy if I am happy with the fit.
Is it in a color I can wear for more than one season?
In the end, I took my mother's advice, and made it my own.
If I find quality classic items, for clearance prices, then I buy it.
Some of you do not like consignment or resale clothing stores, and that is ok! And there are still items I typically pay full price for (after checking the clearance section of course). Some of you are able to afford purchasing any item you want, regardless of price, and that is awesome! I am just thankful that there are some hidden gems in Tyler, Texas where I love to shop.
---
Kelly Raulston

"Reliable and Ready" REALTOR® since 2016. I was born in Monroeville, Pennsylvania, but was raised in Texas since 1997. When I found out we were moving to Plano, Texas, I remember looking forward to riding a horse to school and a brand-new pair of cowboy boots! Growing up in Plano prepared me to be competitive, quick, and to have a strong work ethic. I graduated from Stephen F. Austin State University in Nacogdoches, Texas. Axe'em Jacks! That is where my love for East Texas began. The nature, warm smiles, football games, and community values can't be beat! I graduated summa cum laude with a degree in Interdisciplinary Studies. I was a middle school math teacher in Tyler, Texas. I met my husband, Travis, in Sunday school, and we have been married since September 2016. I love being a REALTOR® in East Texas! Relationships are genuine, the area is beautiful, and the market is rockin'! I am an involved REALTOR® to better the community. Some of the organizations I am involved with are: The Professional Development Committee, Texas Real Estate Political Action Committee, and Tyler Educational Networking Group. Some awards I have won were "The Hustle Award" in 2016, and "Rookie of the Year" in 2017. When I am not working with my clients, I like to spend quality time with my friends and family doing the following: running, target practice, read and participate in book club, and playing with my dachshund Greta.