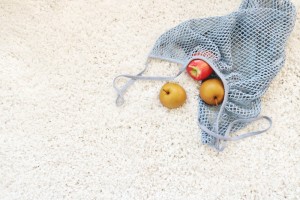 Carpet in the Bathroom
You walk out of the shower, or your splash water out of the bathtub… and the water goes on the carpet! The water will sit in the carpet and can cause mold.
Carpet in the Kitchen
Cooking, crumbs and accidentally dropping food on the carpet, what a mess to clean up!
Popcorn Ceilings
When I first moved from Pennsylvania to Texas and saw popcorn ceilings, I thought it looked like cottage cheese on the ceiling! Every time my parents would paint the ceiling, the popcorn would go everywhere.
Linoleum Flooring
Vinyl plank flooring, hardwood, tile flooring are can be easy to clean and maintain. Carpet can be a great option too, just make sure to deep clean regularly and avoid wearing shoes on it if possible.
Non-Soft Close Drawers
Once you have experienced a "soft closed" drawer, why would you want to go back to hearing the noise of a drawer closing!?
Tile Counter-Tops with Large, White Grout
Yes, granite tile countertops can look great, but who wants to try to maintain the bright white look of large grout in a tile countertop!
Vertical Blinds
Such a battle! It can be especially challenging to maintain with pets and small children.
---
Kelly Raulston

"Reliable and Ready" REALTOR® since 2016. I was born in Monroeville, Pennsylvania, but was raised in Texas since 1997. When I found out we were moving to Plano, Texas, I remember looking forward to riding a horse to school and a brand-new pair of cowboy boots! Growing up in Plano prepared me to be competitive, quick, and to have a strong work ethic. I graduated from Stephen F. Austin State University in Nacogdoches, Texas. Axe'em Jacks! That is where my love for East Texas began. The nature, warm smiles, football games, and community values can't be beat! I graduated summa cum laude with a degree in Interdisciplinary Studies. I was a middle school math teacher in Tyler, Texas. I met my husband, Travis, in Sunday school, and we have been married since September 2016. I love being a REALTOR® in East Texas! Relationships are genuine, the area is beautiful, and the market is rockin'! I am an involved REALTOR® to better the community. Some of the organizations I am involved with are: The Professional Development Committee, Texas Real Estate Political Action Committee, and Tyler Educational Networking Group. Some awards I have won were "The Hustle Award" in 2016, and "Rookie of the Year" in 2017. When I am not working with my clients, I like to spend quality time with my friends and family doing the following: running, target practice, read and participate in book club, and playing with my dachshund Greta.