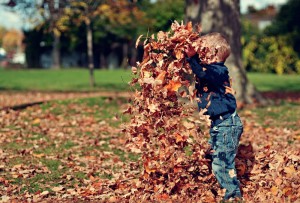 1. Get Rid of Fallen Leaves on Lawn
After you take a moment to enjoy the beauty of the autumn leaves, and of course play in them, say goodbye to the leaves. Grass needs sunlight, and leaves also trap moisture. Remove the leaves as often as you can.
2. Continue to Mow The Lawn, But Pay Attention to The Height.
Grass continues to grow up to the first hard frost, and so will need regular cuts. Ideally 2½- to 3-inch height.
Too long, it can be susceptible to fungi like snow mold.
Too short, it messes up the root system and hinders the lawn's ability to withstand winter cold and dryness.
Tips for Mowing Lawn In The Fall
3. Continue to Water Lawn.
Keep the grass roots well hydrated and healthy going into the winter. If your lawn isn't getting at least an inch of water a week, then continue watering until the end of October.
Tips for Watering Lawn in The Fall
4. Aerate the Soil.
This allows water, oxygen, and nutrients to reach the soil. A core aerator will create holes and pull up plugs of soil. Aerate the lawn right before fertilizing.
Why Should You Aerate Your Lawn
5. Fertilize the Soil.
Grass roots benefit from a shot of the plant sugars. This protects roots from freezing and gives enough nutrients energize the grass in spring. Be careful not to fertilizer close to waterways, and to maintain a buffer to prevent contamination.
6. Spread Grass Seed.
Because the ground is still warm, moisture is more plentiful, nights are cool, and the sun is not as hot during the day, fall is the best time to overseed. Do some research about the best ways to seed your lawn. Be cognizant about how some "seeders" may tear up your lawn.
---
Kelly Raulston

"Reliable and Ready" REALTOR® since 2016. I was born in Monroeville, Pennsylvania, but was raised in Texas since 1997. When I found out we were moving to Plano, Texas, I remember looking forward to riding a horse to school and a brand-new pair of cowboy boots! Growing up in Plano prepared me to be competitive, quick, and to have a strong work ethic. I graduated from Stephen F. Austin State University in Nacogdoches, Texas. Axe'em Jacks! That is where my love for East Texas began. The nature, warm smiles, football games, and community values can't be beat! I graduated summa cum laude with a degree in Interdisciplinary Studies. I was a middle school math teacher in Tyler, Texas. I met my husband, Travis, in Sunday school, and we have been married since September 2016. I love being a REALTOR® in East Texas! Relationships are genuine, the area is beautiful, and the market is rockin'! I am an involved REALTOR® to better the community. Some of the organizations I am involved with are: The Professional Development Committee, Texas Real Estate Political Action Committee, and Tyler Educational Networking Group. Some awards I have won were "The Hustle Award" in 2016, and "Rookie of the Year" in 2017. When I am not working with my clients, I like to spend quality time with my friends and family doing the following: running, target practice, read and participate in book club, and playing with my dachshund Greta.