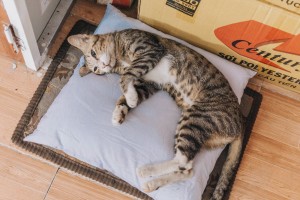 It can already be overwhelming enough with moving, but then add "Fido" and "Whiskers" into the mix, and it can be hectic! Especially because pets are important members of the family, here are a few tips for moving your animal and getting them acclimated into their new home.
What I did when I moved:
I kept my dog, Greta, in her kennel that she was already used to at home. It probably would have been a lot easier to keep her kennel in her bedroom that she was already used to. At the time, I thought it would be better to move her kennel into the kitchen so that she could see what my husband and I were doing. Did she bark? Yes. But that was because she was confused, she wanted to play, and she wanted attention. However, ever so often, I took her out of the kennel for her to have food and water, and also for her to "take care of business" outside. Once it was time to put her back into the kennel, I would give her a treat. It was only for one day, and we were only moving less than a mile away. For our schedule, it was more convenient for us to have the dog at home while we were moving. When I move again, I will most likely check Greta into Bark Avenue for a day or two.
Making Sure Home Is Pet Proof:
Put away all electrical cords.
Make sure windows have screens.
Remove poisonous plants
Make sure pest control items are out of your pet's reach.
Packing Up Your Home:
Place your moving boxes in your home early. This way, your pet can get used to the sight, sound, and smell of these boxes.
Pack up the most familiar room to your pet last. Your animal is already used to their favorite couch, the decorations on the wall.
On Moving Day:
Having your friends and family watch the pet
Checking your pet into a kennel
Keep your pet in a quiet room with the door shut. You don't want your pet to run away as the movers are removing boxes and loading them on the truck.
Settling In:
It may be tempting to let your animal just run around the house when you first walk in. However, you still have to move all of the boxes into your new home. Since you packed up your "most familiar" spot last, maybe you move those boxes out first into a room with your animal. That way, as your pet is adjusting to a new setting, they already have those familiar sights and smells of your furniture and décor.
This first room that you introduce the animal to is their new "home base". Introduce your animal to each room one at a time. You can have their favorite blanket, bed, toys, even their pet sweater!
If your animal is already used to listening to music throughout the day, then play their favorite radio station.
More Information About Moving With Pets from ASPCA
Congratulations on moving into your new home! I can't wait until I see how you make your house your home.
---
Kelly Raulston

"Reliable and Ready" REALTOR® since 2016. I was born in Monroeville, Pennsylvania, but was raised in Texas since 1997. When I found out we were moving to Plano, Texas, I remember looking forward to riding a horse to school and a brand-new pair of cowboy boots! Growing up in Plano prepared me to be competitive, quick, and to have a strong work ethic. I graduated from Stephen F. Austin State University in Nacogdoches, Texas. Axe'em Jacks! That is where my love for East Texas began. The nature, warm smiles, football games, and community values can't be beat! I graduated summa cum laude with a degree in Interdisciplinary Studies. I was a middle school math teacher in Tyler, Texas. I met my husband, Travis, in Sunday school, and we have been married since September 2016. I love being a REALTOR® in East Texas! Relationships are genuine, the area is beautiful, and the market is rockin'! I am an involved REALTOR® to better the community. Some of the organizations I am involved with are: The Professional Development Committee, Texas Real Estate Political Action Committee, and Tyler Educational Networking Group. Some awards I have won were "The Hustle Award" in 2016, and "Rookie of the Year" in 2017. When I am not working with my clients, I like to spend quality time with my friends and family doing the following: running, target practice, read and participate in book club, and playing with my dachshund Greta.