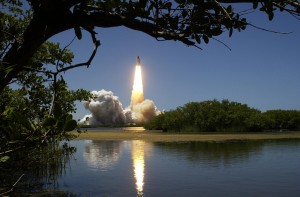 I recently attended a Texas Realtors conference in South Padre Island. As I boarded the plane to SPI, I noticed there was a lot of international passengers on the plane.
As we were seated, I sat next to a man from China.
We both made small talk, and I asked him why he was flying to SPI. He informed me that he was watching the Rocket Launch. I had been so caught up making sure all of the loose ends of real estate were tied up before my trip, that I didn't even realize about the rocket launch.
He told me it would launch at 8:30am. My conference started at 9:00am. So I thought I might capture a glimpse before the conference.
The next morning, I decided to go to a local coffee shop, to grab a quick coffee before the conference.
I sat down at the small round table and was just about to take a sip of coffee, when it happened.
The windows started to shake, and a loud low noise began.
Was it an earthquake?
Then I thought it was someone driving by with loud bass in their car.
No that wasn't it. It was the rocket!
I ran outside, left my wallet and coffee in the shop. (I know I know, I shouldn't have done that)
But I just started recording on my social media stories. People always want to know what you're doing when you're out of town.
But then, the Tyler Newspaper reached out to me, and wanted an interview! I was the ONLY person from Tyler, Texas to witness this first hand. How cool was that?
You never know when you're going to see a historical event, when you are doing the everyday ordinary things.
---
Kelly Raulston

"Reliable and Ready" REALTOR® since 2016. I was born in Monroeville, Pennsylvania, but was raised in Texas since 1997. When I found out we were moving to Plano, Texas, I remember looking forward to riding a horse to school and a brand-new pair of cowboy boots! Growing up in Plano prepared me to be competitive, quick, and to have a strong work ethic. I graduated from Stephen F. Austin State University in Nacogdoches, Texas. Axe'em Jacks! That is where my love for East Texas began. The nature, warm smiles, football games, and community values can't be beat! I graduated summa cum laude with a degree in Interdisciplinary Studies. I was a middle school math teacher in Tyler, Texas. I met my husband, Travis, in Sunday school, and we have been married since September 2016. I love being a REALTOR® in East Texas! Relationships are genuine, the area is beautiful, and the market is rockin'! I am an involved REALTOR® to better the community. Some of the organizations I am involved with are: The Professional Development Committee, Texas Real Estate Political Action Committee, and Tyler Educational Networking Group. Some awards I have won were "The Hustle Award" in 2016, and "Rookie of the Year" in 2017. When I am not working with my clients, I like to spend quality time with my friends and family doing the following: running, target practice, read and participate in book club, and playing with my dachshund Greta.