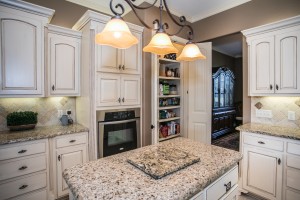 When I show buyers property, many buyers check the pantry in the home. They want to know storage size and style. Buyers are always quick to compliment a pantry if it is organized, and clean. In fact many of the buyers say "Wow, how do they keep it organized and clean?!"… and they forget that the home is staged.
We go to the grocery store. We buy food. Come home. Put food away.
We prep the kitchen to cook meals. Get food out of pantry to prep for meals. Prep the meals. Cook meals. Eat them. Clean kitchen.
When is the last time you have truly cleaned out your pantry?
Why Should You Clean Out Your Pantry?
If your home is currently on the market, the buyers will want to know about storage. Organized, clean, and staged homes present the best first impression. Even for your pantry.
Remove expired food.
Take inventory of what you do have.
Take note of what you are about to run out of.
Take note of what you need to purchase.
Check for pests.
Clean Out Your Pantry This Weekend!
Start off by removing everything out of your pantry, and place it in the kitchen. Then go throw each item. If it is expired, throw it out.
Clean pantry shelves, floor, baseboards, and possible cobwebs on corners of ceiling.
Also, while everything is out of the pantry, you may want to consider the following:
Add more shelving
Re-paint pantry
Apply fun wall paper
Apply contact paper to shelves
Then, only put the items back in the pantry you actually are going to use. This could also be a great opportunity to organize baking materials with jars, baskets, "Lazy Suzannes", and items to make the pantry better!
---
Kelly Raulston

"Reliable and Ready" REALTOR® since 2016. I was born in Monroeville, Pennsylvania, but was raised in Texas since 1997. When I found out we were moving to Plano, Texas, I remember looking forward to riding a horse to school and a brand-new pair of cowboy boots! Growing up in Plano prepared me to be competitive, quick, and to have a strong work ethic. I graduated from Stephen F. Austin State University in Nacogdoches, Texas. Axe'em Jacks! That is where my love for East Texas began. The nature, warm smiles, football games, and community values can't be beat! I graduated summa cum laude with a degree in Interdisciplinary Studies. I was a middle school math teacher in Tyler, Texas. I met my husband, Travis, in Sunday school, and we have been married since September 2016. I love being a REALTOR® in East Texas! Relationships are genuine, the area is beautiful, and the market is rockin'! I am an involved REALTOR® to better the community. Some of the organizations I am involved with are: The Professional Development Committee, Texas Real Estate Political Action Committee, and Tyler Educational Networking Group. Some awards I have won were "The Hustle Award" in 2016, and "Rookie of the Year" in 2017. When I am not working with my clients, I like to spend quality time with my friends and family doing the following: running, target practice, read and participate in book club, and playing with my dachshund Greta.