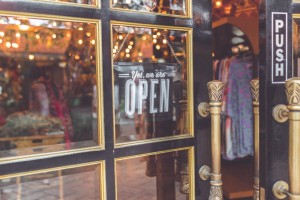 Not only do I work with home buyers/sellers, but I also work with commercial landlords/tenants, and commercial buyers/sellers. Yes, I still enjoy going to the grocery store, browsing for gift ideas for friends at stores, and even trying on clothing at the store. Yes, I do have friends who just read some reviews, click on the item, pay, and have it shipped to their door. However, there are online businesses that are going towards the "brick and click" method of business and are discovering that there are customers who STILL want brick and mortar stores.
The term refers to a business that offers products and services to its customers face-to-face in an office or store. Some examples are local grocery stores, clothing stores, banks, etc.
Why Do We Need Brick and Mortar Stores?
Personal Senses
There are people out there who want their senses engaged- sight, sound, smell, taste, and touch. Sure, you can use many adjectives to describe your product, but there is nothing like actually physically holding the product. Sometimes the edited photographs and our technology can give a false representation of the color of the item. If you are comparing the product in person, you can determine if the gray is the "right" shade of gray. You have the ability to chose the item in the store you want.
Take Item Home
After the consumer finds the item they want to purchase, after they purchase, they can immediately take them home. No need for waiting for a package, or paying for shipping and handling. No worry about someone stealing your package off the front door.
Yes, I believe we still need human interaction. Especially living in East Texas, east Texans need east Texans. I enjoy walking into a business and seeing people who I actually know. It's a great time to catch up! I also enjoy meeting new people for the first time. I like to get to know their experiences with the product. Sure, even if it is 5 minutes, that 5 minutes may just make a difference in someone's day.
As great a some of the user manuals are, or videos on how to use the product, there is nothing like actually being able to talk to someone about the product. You can most likely get your questions answered in the store. This can be done without having to be on hold with a customer service representative, only during the business hours of 8:00-5:00 in Pacific Time; or having to send an email, and wait between 24-36 business hours for a response…if the company even responds.
Not Everyone Is Going to Shop at Brick and Mortar
I understand that I may have more options when shopping online, some of the prices may be lower, and you don't have to deal with waiting in lines. I also understand that it takes time to shop at the store, and effort to get everything together you need to go to the store. However, I enjoy the experience I have when I am physically at the location. Am I saying that every single conversation I have with a business representative is meaningful, and get the answers I want to my questions? Nope. However, I believe, people need people, east Texans needs to support their local businesses, and continue to shop at brick and mortar businesses!
---
Kelly Raulston

"Reliable and Ready" REALTOR® since 2016. I was born in Monroeville, Pennsylvania, but was raised in Texas since 1997. When I found out we were moving to Plano, Texas, I remember looking forward to riding a horse to school and a brand-new pair of cowboy boots! Growing up in Plano prepared me to be competitive, quick, and to have a strong work ethic. I graduated from Stephen F. Austin State University in Nacogdoches, Texas. Axe'em Jacks! That is where my love for East Texas began. The nature, warm smiles, football games, and community values can't be beat! I graduated summa cum laude with a degree in Interdisciplinary Studies. I was a middle school math teacher in Tyler, Texas. I met my husband, Travis, in Sunday school, and we have been married since September 2016. I love being a REALTOR® in East Texas! Relationships are genuine, the area is beautiful, and the market is rockin'! I am an involved REALTOR® to better the community. Some of the organizations I am involved with are: The Professional Development Committee, Texas Real Estate Political Action Committee, and Tyler Educational Networking Group. Some awards I have won were "The Hustle Award" in 2016, and "Rookie of the Year" in 2017. When I am not working with my clients, I like to spend quality time with my friends and family doing the following: running, target practice, read and participate in book club, and playing with my dachshund Greta.