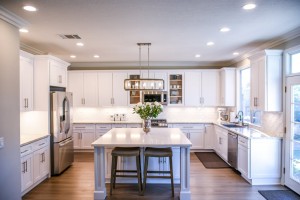 Normally, when people are looking for a home, they usually start online. Especially with all of the websites, apps, emails, buyers have more opportunities to see homes from the comfort of their own home.
However, open houses are still prevalent, and still a great way to see the home!
Why?
People need people. One of the reasons REALTORS® hosts an open house is because the seller would like feedback on the home. By attending the open house, and providing your courteous perspective may help sell the house!
Be an informed seller. If you are thinking about selling your home, and you see there is an open house down the street, it may be wise to see what you would be competing with. How is the home staged? What are the positives and negatives?
Pictures can be misleading. Yes, technology is great, but sometimes pictures (bad or good) can alter your opinion of the home before you even see it in person. Even the way the pictures are ordered and alter the layout of the home in your mind. If you like the location, and you like the neighborhood, and there is an open house, go to it!
See features up close and personal. Maybe in the pictures, you loved the gray walls with the white cabinets. But then when you attend the open house and see the home without the photography filters, the walls were actually more purple, and the cabinets were more cream. Of course, these are features you can change, but seeing the home up close and personal gives you the opportunity to see the finishes.
Be inspired by upgrades and updates. Maybe the home that is having an open house is a new construction home or a recent flip. This could give you an opportunity to see what new trends are and how upgrades look in an actual home as opposed to a store. Maybe you were just about to drop a large amount of money on countertops, and you saw a home online that had the EXACT same ones! Wouldn't you like to see it before? You can also ask the REALTOR® what brand of flooring, the color of paint, type of appliances the seller used, and they can get you the answer!
How Do You Know if There is An Open House?
Check the local newspaper, driving around your favorite neighborhoods, online websites, and apps. If a REALTOR® is going to be hosting an open house, they will most likely advertise!
When Do Open Houses Typically Occur?
When I host an open house, it is typically a 2-3 hour time slot anywhere between 10:00 am-4:00 pm on the weekend.
As you approach the weekend, I invite you to attend an open house or two! Who knows, the house you see in person, just could be the one!
---
Kelly Raulston

"Reliable and Ready" REALTOR® since 2016. I was born in Monroeville, Pennsylvania, but was raised in Texas since 1997. When I found out we were moving to Plano, Texas, I remember looking forward to riding a horse to school and a brand-new pair of cowboy boots! Growing up in Plano prepared me to be competitive, quick, and to have a strong work ethic. I graduated from Stephen F. Austin State University in Nacogdoches, Texas. Axe'em Jacks! That is where my love for East Texas began. The nature, warm smiles, football games, and community values can't be beat! I graduated summa cum laude with a degree in Interdisciplinary Studies. I was a middle school math teacher in Tyler, Texas. I met my husband, Travis, in Sunday school, and we have been married since September 2016. I love being a REALTOR® in East Texas! Relationships are genuine, the area is beautiful, and the market is rockin'! I am an involved REALTOR® to better the community. Some of the organizations I am involved with are: The Professional Development Committee, Texas Real Estate Political Action Committee, and Tyler Educational Networking Group. Some awards I have won were "The Hustle Award" in 2016, and "Rookie of the Year" in 2017. When I am not working with my clients, I like to spend quality time with my friends and family doing the following: running, target practice, read and participate in book club, and playing with my dachshund Greta.