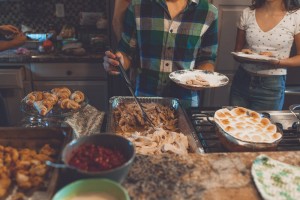 Thanksgiving is an opportunity to celebrate togetherness, thankfulness, and even traditions. As we approach Thanksgiving, some people get really stressed out about how "everything has to be PERFECT". From food to decor, and family relationships to event timing, some people become overwhelmed with making sure this ONE DAY is perfect. Honestly, there is no such thing as perfection. Sure, on social media, it appears that some people have it more together than you do. However, to some of your friends, you just might appear to them that you have everything together more than they do. It's difficult to know what happens behind the technological screen. When you realize that there is no such thing as perfection, and you embrace that the holiday is about togetherness, and thankfulness, you just maybe a little at ease about incorporating a new tradition.
New tradition?!? What is traditional about bringing on something new? Well, in order to keep the holiday fresh and exciting, it could be beneficial to add something new.
Adding a tradition does not mean that you have to spend more money.
Especially with being bombarded with advertisements, and how spending money has become even easier (some apps allow you to pay with just a swipe of a finger), a Thanksgiving activity does not have to involve spending money. Here are some ideas I invite you to try this year for Thanksgiving.
Ideas that Involve Cellphones
Let's face it, as much as you may or may not need a break from the cellphone, the cellphone will most likely be present at Thanksgiving. Sure, you can try to make a rule about no technology at Thanksgiving. But then your guests might sneak the use of the cellphone, and the phone could be on their mind constantly. So why not integrate it into the holidays?
Geocaching
It's based on a simple idea: People have hidden more than 3 million treasure stockpiles (known as geocaches) all around the world, and it's your job to find them using only a GPS. To get started, simply download the Geocaching app or log in to the Geocaching website. Bonus: This activity may bring you to local spots you've never visited, which is a way to be a tourist in your own hometown.
Photography Challenge
Of course, there will be selfies, pictures of food, and family photos. Looking to boost your photography skills and explore hidden nooks and crannies as a way to be a tourist in your own hometown? Google "photography challenge" to find lists of things to take pictures of each day for a set period of time. Items like "find something red" and "take a picture of something abandoned and forgotten" can turn your photography into a real hometown treasure hunt. How could you theme this for a holiday? You could have your guests take pictures of
items that would weigh the same as the turkey
items that may have been on the Mayflower
items that have been at the most family Thanksgivings
items that you are most thankful for
Be creative!
Games
Thankful Guessing Game
At the start of the day, encourage everyone to write a few things they're thankful for on slips of paper and place them into a jar. After the meal is over, take turns drawing a slip out and try to guess who put which "thanks" into the jar. Not only is it a fun way to see how much you all know about each other, it also encourages everyone to get creative about what they're thankful for this holiday.
Wishbone Scavenger Hunt
This is a great way to keep kids of all ages entertained during the post-meal lull. Early in the day, have teens or unoccupied adults think up scavenger hunt clues (bonus points for Thanksgiving puns) and hide them around the house and yard. Once dinner is over, send the little ones out to search for all of the hidden hints, leading them back to a secret spot where you've stashed the turkey's wishbone. The first two to arrive get to split the wishbone — the winner gets a wish, second place gets first pick of the desserts!
Additional Games
Games With Items You Already Have
Games You Can Play With A Deck of Cards
Let Everyone Toast
Another way to make gratitude gushing even more festive is to let everyone make a toast. Everyone at the table can make a toast, all ages!
Write Letters to a Solider
Meet Your Neighbors.
How about make a dessert plate for your neighbor and introduce yourself to your neighbors if you don't know them very well. Does it have to be a 6-hour visit? No! But what a perfect opportunity to show gratitude and to get to know your neighbors. Be prepared that they will most likely either not be at home, or with family. But, take the chance, exchange some fun events that happened throughout the day, and see where it takes you!
Travis and I had just moved into our home, and our neighbors invited us over to spend some of Thanksgiving with them. It was a come and go event, and there was no pressure to stay all day. The food was fabulous, and the company was even better!
---
Kelly Raulston

"Reliable and Ready" REALTOR® since 2016. I was born in Monroeville, Pennsylvania, but was raised in Texas since 1997. When I found out we were moving to Plano, Texas, I remember looking forward to riding a horse to school and a brand-new pair of cowboy boots! Growing up in Plano prepared me to be competitive, quick, and to have a strong work ethic. I graduated from Stephen F. Austin State University in Nacogdoches, Texas. Axe'em Jacks! That is where my love for East Texas began. The nature, warm smiles, football games, and community values can't be beat! I graduated summa cum laude with a degree in Interdisciplinary Studies. I was a middle school math teacher in Tyler, Texas. I met my husband, Travis, in Sunday school, and we have been married since September 2016. I love being a REALTOR® in East Texas! Relationships are genuine, the area is beautiful, and the market is rockin'! I am an involved REALTOR® to better the community. Some of the organizations I am involved with are: The Professional Development Committee, Texas Real Estate Political Action Committee, and Tyler Educational Networking Group. Some awards I have won were "The Hustle Award" in 2016, and "Rookie of the Year" in 2017. When I am not working with my clients, I like to spend quality time with my friends and family doing the following: running, target practice, read and participate in book club, and playing with my dachshund Greta.