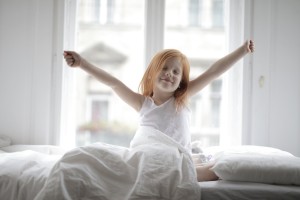 Joy can be defined as "a feeling of great pleasure and happiness." People find joy in multiple ways: spiritually, economically, physically, mentally, etc. Here are some ways that you can instantly bring joy into your household, without spending money!
Let There Be Light
Open the blinds and curtains Doing this as soon as you wake up will bring in natural light that you can enjoy throughout the day.
Clean windows and mirrors Even if you clean windows one day and mirrors the next, this quick fix will help make your home just a little nicer.
Refresh
Change your sheets and make your bed Making your bed as soon as you wake up can bring a little more joy to your room! Clean sheets feel wonderful at the end of the day when you are ready to sleep.
Clean out your refrigerator Take time to take everything out of the fridge, wipe down the walls and shelves, and throw out expired food. This could inspire you to make a new meal or a family favorite!
Let Joy Fill Your Home
Play your favorite songs Let the music fill your home! If you live with multiple people and you have different tastes of music, put headphones in your ears and jam out!
Open your windows and bring in fresh air With weather permitting of course. Even if this is for 10 minutes, it allows you home to have a breath of fresh air!
Don't Forget Yourself
Stretch for 10 minutes As soon as you wake up in the morning, take a few minutes to stretch your arms and legs. This will help get the body moving and ready for the day.
Pray and meditate This can range from 30 seconds to 15 minutes. Take time to get in touch with your spirituality.
Call a friend or family member Notice, "text message" was written. Even if the phone call is 5 minutes, just hearing another person's voice that you know can do wonders.
Smile more Sure, there are days you may have to fake a smile. But smiling can lead to a better mood and overall increase joy.
---
Kelly Raulston

"Reliable and Ready" REALTOR® since 2016. I was born in Monroeville, Pennsylvania, but was raised in Texas since 1997. When I found out we were moving to Plano, Texas, I remember looking forward to riding a horse to school and a brand-new pair of cowboy boots! Growing up in Plano prepared me to be competitive, quick, and to have a strong work ethic. I graduated from Stephen F. Austin State University in Nacogdoches, Texas. Axe'em Jacks! That is where my love for East Texas began. The nature, warm smiles, football games, and community values can't be beat! I graduated summa cum laude with a degree in Interdisciplinary Studies. I was a middle school math teacher in Tyler, Texas. I met my husband, Travis, in Sunday school, and we have been married since September 2016. I love being a REALTOR® in East Texas! Relationships are genuine, the area is beautiful, and the market is rockin'! I am an involved REALTOR® to better the community. Some of the organizations I am involved with are: The Professional Development Committee, Texas Real Estate Political Action Committee, and Tyler Educational Networking Group. Some awards I have won were "The Hustle Award" in 2016, and "Rookie of the Year" in 2017. When I am not working with my clients, I like to spend quality time with my friends and family doing the following: running, target practice, read and participate in book club, and playing with my dachshund Greta.