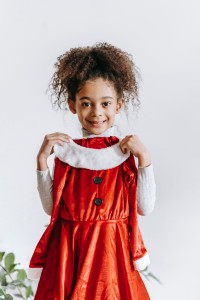 Y'all, it is hot. Not only is it hot, but it is humid… and it is December 17th, 2021. All over the country, people are experiencing cooler climate and snow. Now, I am not necessarily asking for a "winter wonderland" experience… because snow in East Texas has resulted into serious issues (Snowmadegon 2021). But, I would like to experience SOME cooler weather.
Yes, I know when it EVENTUALLY gets cooler outside, someone is going to say "Look Kelly, now it is cold!" I get that, and I am looking forward to that.
Especially with all of the holiday get-togethers, people are in the Christmas spirit and want to celebrate. We love the sweaters (ugly and beautiful), and it is fun to dress up! However, it is just to dang hot too wear thick wool sweaters. So, what can you do?
Holiday Attire East Texas Suggestions
Think Holiday Colors
Instead of wearing thick holiday sweaters, try using items in your closet that are holiday colors. Red, green, white, blue, gold, silver, etc. Mix and match in order to have a holiday color scheme. Maybe green shorts, and a red shirt? Silver top and blue pants?
Think T-Shirt
It has taken me 10 years to come to the realization…. Holiday wear is not just sweaters. There are also holiday t-shirts. The designs have gotten a lot more creative over the years, but a t-shirt is a great way to show your spirit, while keeping cool.
Think Accessories
Holiday pins, headbands, earrings, bracelets, shoes, ties, socks… these can give you some holiday flair, but without the bulk.
Think Dishes
Going to a holiday party, and need to bring an appetizer or dessert? Dress comfortably, and then make sure your food item is on a holiday plate. Don't have a holiday plate? Go with white, red, green, etc. You can even make your food item holiday themed (stocking sugar cookies, snowman crackers, etc…)
---
Kelly Raulston

"Reliable and Ready" REALTOR® since 2016. I was born in Monroeville, Pennsylvania, but was raised in Texas since 1997. When I found out we were moving to Plano, Texas, I remember looking forward to riding a horse to school and a brand-new pair of cowboy boots! Growing up in Plano prepared me to be competitive, quick, and to have a strong work ethic. I graduated from Stephen F. Austin State University in Nacogdoches, Texas. Axe'em Jacks! That is where my love for East Texas began. The nature, warm smiles, football games, and community values can't be beat! I graduated summa cum laude with a degree in Interdisciplinary Studies. I was a middle school math teacher in Tyler, Texas. I met my husband, Travis, in Sunday school, and we have been married since September 2016. I love being a REALTOR® in East Texas! Relationships are genuine, the area is beautiful, and the market is rockin'! I am an involved REALTOR® to better the community. Some of the organizations I am involved with are: The Professional Development Committee, Texas Real Estate Political Action Committee, and Tyler Educational Networking Group. Some awards I have won were "The Hustle Award" in 2016, and "Rookie of the Year" in 2017. When I am not working with my clients, I like to spend quality time with my friends and family doing the following: running, target practice, read and participate in book club, and playing with my dachshund Greta.