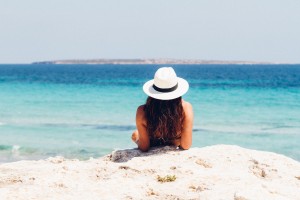 Spring Break is this time of year! Many people take this time to stay at home and rest. Others take advantage of this opportunity and travel. Traveling can be exciting, refreshing, and JUST what you needed. But then, you have to come home. Sometimes coming home is ok: your own bed, your own routine, saving money. But sometimes, coming home can lead to people being disappointed: leaving a scenery they love, leaving family they love, getting "back to reality".
What Are the Parts About Your Vacation that You Enjoyed?
Time/Different Schedule
Sights and Scenes
Different Restaurants
How Can You Continue to Enjoy that After Your Vacation?
Time
Wake up earlier in the day, and give yourself time to enjoy the things you love. Maybe its working out, walking, reading, bible study, or watching a TV show you love. Sure, an hour earlier may seem out of reach. But think about it, one hour is ONLY 4% of your total day.
It could also be time with your family that you are longing for. Then, after your vacation, make a conscious decision to say NO to events that will take time away from your family. Obviously, some events, projects, etc. are required, but others are not. Remember, you only have one life to live. Work will always find someone else to fill your place, but you only have one family.
Sights and Scenes
Yes, going on vacation also gives you the opportunity to see different scenery. However, there are MANY hidden gems in your own backyard. Maybe take some time on the weekends, and explore different cities around where you live. Sure, you have errands you need to take care of on the weekends, but why not give yourself time to explore!
Different Restaurants
I am a big "foodie", so I LOVE trying new restaurants when my husband and I go out to town. Challenge yourself to cook food from a different city. There are tons of recipes on the internet and social media that can help you. Maybe you can try cooking food from a different country. Change it up!
Maybe it is Time for a Change?
Maybe the beach you traveled to felt like home. Maybe the mountains you visited put you at ease. Maybe it is time to discuss moving to a different city. Of course, you have got to talk to decision makers about this change as well. But, life is too short. You are not a tree. You do not have to stay planted where you currently are. You can MOVE!
---
Kelly Raulston

"Reliable and Ready" REALTOR® since 2016. I was born in Monroeville, Pennsylvania, but was raised in Texas since 1997. When I found out we were moving to Plano, Texas, I remember looking forward to riding a horse to school and a brand-new pair of cowboy boots! Growing up in Plano prepared me to be competitive, quick, and to have a strong work ethic. I graduated from Stephen F. Austin State University in Nacogdoches, Texas. Axe'em Jacks! That is where my love for East Texas began. The nature, warm smiles, football games, and community values can't be beat! I graduated summa cum laude with a degree in Interdisciplinary Studies. I was a middle school math teacher in Tyler, Texas. I met my husband, Travis, in Sunday school, and we have been married since September 2016. I love being a REALTOR® in East Texas! Relationships are genuine, the area is beautiful, and the market is rockin'! I am an involved REALTOR® to better the community. Some of the organizations I am involved with are: The Professional Development Committee, Texas Real Estate Political Action Committee, and Tyler Educational Networking Group. Some awards I have won were "The Hustle Award" in 2016, and "Rookie of the Year" in 2017. When I am not working with my clients, I like to spend quality time with my friends and family doing the following: running, target practice, read and participate in book club, and playing with my dachshund Greta.