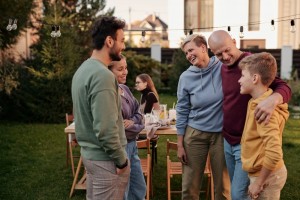 Now that the weather is starting to become more enjoyable to be outside in, are you ready to start entertaining outside? Before you invite your loved ones over, it's time to give your yard a little TLC. Sure, you may have been mowing the lawn, and maybe even planted some flowers. However, it is also important to remember to de-clutter the outside of your home as well.
Before your next outdoor get together, take a moment to consider removing the following items BEFORE your guest come.
Broken Items
Furniture
Nothing worse than when you want to sit down in a chair, and you can't because it is broken. Why leave it there? It is just in the way, and is taking up valuable patio space.
Pots and Containers
Avoid stubbing your toe by removing these.
Garden Tools and Equipment
Better in the garbage than outside around your guests.
Toys
Sure, you may have found memories of your child playing with that toy. However, if it is broken, odds are there are probably pieces of the toy lying around as well. Avoid the choking hazard, and toss the broken toy.
Outgrown Items
Toys
Again, these take up valuable space for entertainment. If they haven't played with it in a while, time to donate. Kids will play with what is available, and if unused toy is out of sight, then it's most likely out of mind as well.
Playset/Swing Set
Especially if it is an older playset. Playsets/swing sets need to be maintained; its not just one purchase and forget about it. Wooden playsets also come splinters and wood rot over time. If your children no longer use the playset, it's time to get rid of it. With that removed you have more room in the yard!
Trampoline
Especially if it is an older trampoline. Again, these need to be maintained. Overtime, trampolines can break down, and then the ONE time you want to use it… trampoline breaks and you possibly have an injury.
Additional Items
Pet Excrement
Nothing like playing outside, and finding hidden treasure!
Unused Pots and Containers
Pests like to hang out in these.
Pile of Wood
Pests lie hang out here as well.
Chemicals and Old Yard Care Products
Products break down overtime. Store in a safe location, and if you do not use it frequently, get rid of it.
After you are done de-cluttering the yard, time to invite those loved ones over! Enjoy some quality time outdoors. Maybe grillout, sip some tea, and share a laugh or two. Either way, not only will your guests feel more comfortable with the extra space in the yard, but you can't help but feel better about the space that you improved on your property. Enjoy the weekend!
---
Kelly Raulston

"Reliable and Ready" REALTOR® since 2016. I was born in Monroeville, Pennsylvania, but was raised in Texas since 1997. When I found out we were moving to Plano, Texas, I remember looking forward to riding a horse to school and a brand-new pair of cowboy boots! Growing up in Plano prepared me to be competitive, quick, and to have a strong work ethic. I graduated from Stephen F. Austin State University in Nacogdoches, Texas. Axe'em Jacks! That is where my love for East Texas began. The nature, warm smiles, football games, and community values can't be beat! I graduated summa cum laude with a degree in Interdisciplinary Studies. I was a middle school math teacher in Tyler, Texas. I met my husband, Travis, in Sunday school, and we have been married since September 2016. I love being a REALTOR® in East Texas! Relationships are genuine, the area is beautiful, and the market is rockin'! I am an involved REALTOR® to better the community. Some of the organizations I am involved with are: The Professional Development Committee, Texas Real Estate Political Action Committee, and Tyler Educational Networking Group. Some awards I have won were "The Hustle Award" in 2016, and "Rookie of the Year" in 2017. When I am not working with my clients, I like to spend quality time with my friends and family doing the following: running, target practice, read and participate in book club, and playing with my dachshund Greta.