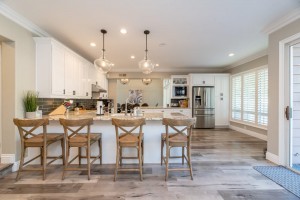 As many of you know, my husband and I purchased an old Victorian home. A large majority of the electrical and light fixtures had been updated. However, just because it was updated doesn't mean that it was our taste. In fact, I want to replace every single light fixture in our home.
One day, my husband and I decided that we were going to go into a local store to look at the lighting options. I just assumed that my husband and I were going to have the same taste! HA! He picked out lighting that he loved, and I hated it, and vise versa. The poor sales rep in the store thought she was going to make a sale. Needless to say, she backed away from us very slowly. The challenge that we have in our own home is that we have an old Victorian home, but we want to incorporate modern lighting; without looking gimmicky or spending too much money. We decided that we needed to work on other aspects of our home prior to lighting (roof, gutters, gutter guards, water filter, garage…etc).
Why is lighting important?
Lighting is a great way to transform the style of the home. Lighting is important for many other reasons:
Safety
Illuminate the task you want to complete
Enhances the aesthetics you want to highlight
Create an inviting space for friends and family
Before you purchase any new light fixtures, I recommend that you have a professional electrician check out the current and remaining wiring, and make any necessary changes.
First, you need to determine the function of each room. Are you wanting the entire room to be illuminated, a particular section of the room, or are you wanting to use the lighting as an accent? Depending on how much natural lighting you have from windows, some rooms may need more light (kitchen) than other rooms (living room). This helpful calculator can determine how much lighting you need depending on the room you have.
From there, you need to determine the best light bulbs for each room. Some lightbulbs are either: incandescent, compact fluorescent bulbs, LEDs, and halogen. These light bulbs range in price, light appearance/kelvins, size, and brightness/lumens. This video can show you how the light color can change the atmosphere of the room.
Finally, choose the light fixture that meets the function and light bulbs for each room. Some rooms need just an overhead light, while others need table lamps and track lighting. Light fixtures range in price, size, and style. To be honest, this one is the most difficult choice for my family, because we have differing options. Take inspiration from style magazines, the internet, attending open houses, etc. The ONE light fixture my husband and I fell in love with was on a Sherwin-Williams paint strip. We called their customer service line, and they were able to track down the light fixture. But by the time we found it... the light was discontinued. You might also want to consult an interior designer, they may help cultivate your style choice and may have access to different vendors.
In the end, if you are happy with your home, but you are not happy with your lighting, you just need more time to think about it. Style trends change, and I am sure when technology changes, light function/style changes as well. My husband and I have determined some lighting that we personally want to add to our home:
Welcoming porch light
Recessed lighting throughout the entire home. We have 14 ft tall ceilings throughout our home and would love to showcase the grand height the ceilings
Statement dining room light fixture
Under-cabinet lighting in the kitchen
Those cute twinkle porch string lights for our screened-in porch
LED lightbulbs throughout
Landscape uplighting
Sure, some of these are easier to install than others! Who knows, we may tackle one of these projects this weekend. In the end, there is no time limit other than the one that you put on yourself. If you had the money and resources to tackle the projects sooner rather than later; go for it! If you are interested in selling your home, and you haven't updated the lighting, I encourage you to consider it! Updated lighting can transform the look of your home, and can give a great first impression to home buyers. In the end, home is the place where you feel happy!
---
Kelly Raulston

"Reliable and Ready" REALTOR® since 2016. I was born in Monroeville, Pennsylvania, but was raised in Texas since 1997. When I found out we were moving to Plano, Texas, I remember looking forward to riding a horse to school and a brand-new pair of cowboy boots! Growing up in Plano prepared me to be competitive, quick, and to have a strong work ethic. I graduated from Stephen F. Austin State University in Nacogdoches, Texas. Axe'em Jacks! That is where my love for East Texas began. The nature, warm smiles, football games, and community values can't be beat! I graduated summa cum laude with a degree in Interdisciplinary Studies. I was a middle school math teacher in Tyler, Texas. I met my husband, Travis, in Sunday school, and we have been married since September 2016. I love being a REALTOR® in East Texas! Relationships are genuine, the area is beautiful, and the market is rockin'! I am an involved REALTOR® to better the community. Some of the organizations I am involved with are: The Professional Development Committee, Texas Real Estate Political Action Committee, and Tyler Educational Networking Group. Some awards I have won were "The Hustle Award" in 2016, and "Rookie of the Year" in 2017. When I am not working with my clients, I like to spend quality time with my friends and family doing the following: running, target practice, read and participate in book club, and playing with my dachshund Greta.