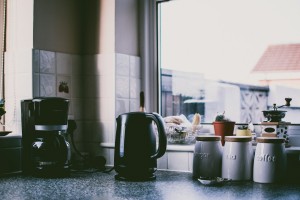 The kitchen is a place where we come together, eat meals, prep food, and visit every single day. However, some people believe they may not have enough counterspace. For some, this is true. For others, they just may not be using their counterspace as effectively as possible.
The coffee maker. The toaster. The air-fryer. The cellphone charger.Although people have ovens, microwaves, and cooktops, many people still use other appliances daily. People think of coffee, and they get their coffee ready. Once they get their coffee, they forget about the appliance.
Same thing with toaster, the air fryer, the cellphone charger, etc. As a result, the kitchen counters become a place to showcase you small appliances. One or two may be ok, but some homes have at least 5-10 kitchen appliances, or decor, on their countertops. Some decor items I have seen are the following: cookie jar, flour jar, sugar jar, etc. This can create a look that is cluttered and unorganized. Also, some homeowners leave their kitchen appliances plugged in.
What is it costing you to keep these items out, plugged in, on your kitchen counters?
According to Natural Resources Defense Council, they estimated that devices left on 24/7 (even if only on standby) cost the average US household around $165 every year.
In addtion, some people want to remodel their kitchen, and put in beautiful backsplashes, countertops, and islands. However, if people are just going to cover the countertops with appliances and decor, is it worth the amount of money and time that is spent remodeling the kitchen?
Energy
Also, according to Racine County Eye, if you leave a TV plugged in while it is off, it still uses 30% of the power.
In addition, you have to battle with the appliances. Think about making cookies. You have to get all of the ingredients out, prep, bake, cool, eat, and store. But, if your appliances are left out on the counters, you have to spend energy, and time, moving them out of the way, and then putting them back in place.
Space
You have a limited amount of space. Why sacrifice valuable countertop space, for a toaster you use once a day; or a air fryer you use 3 times a week?
Items to Unplug
Which items should you FOR SURE unplug? According to Trulia, you should unplug
Small Kitchen Appliances
Chargers
Entertainment Systems
Computers
The little digital clock that is one your coffee maker with the light? Yup, that clock and light means it's using energy. Consider an analog clock to help to keep time instead!
How To Transition
You want more countertop space, but you feel like you need all of the decor and appliances out. Here are steps I recommend you take as you transition to more countertop space.
Take EVERYTHING off of the countertops, and put it away. You can put it in cabinet, pantry, utility closet, or a regular storage closet.
Clean the countertops.
Pat yourself on the back for a job well done.
Everytime you take a appliance out, make note of how many times you use it per day, or during the week.
After one week, in regards to decor

if the item does not bring you joy, consider donating it.
if the item truly gives you joy, leave it out, however,

if you have moved the item at least 2 items, find a different place for the decor.

After one week, if you have used the appliance

every single day, you can leave it out, but leave it out unplugged.
3 times per week, I recommend leaving it in a cabinet close to the countertops.
not at all, consider donating the item.

If you have followed steps 1-6, and you really do not believe you have a large enough kitchen, you may be ready for another home. In that case, let's get together and discuss!
---
Kelly Raulston

"Reliable and Ready" REALTOR® since 2016. I was born in Monroeville, Pennsylvania, but was raised in Texas since 1997. When I found out we were moving to Plano, Texas, I remember looking forward to riding a horse to school and a brand-new pair of cowboy boots! Growing up in Plano prepared me to be competitive, quick, and to have a strong work ethic. I graduated from Stephen F. Austin State University in Nacogdoches, Texas. Axe'em Jacks! That is where my love for East Texas began. The nature, warm smiles, football games, and community values can't be beat! I graduated summa cum laude with a degree in Interdisciplinary Studies. I was a middle school math teacher in Tyler, Texas. I met my husband, Travis, in Sunday school, and we have been married since September 2016. I love being a REALTOR® in East Texas! Relationships are genuine, the area is beautiful, and the market is rockin'! I am an involved REALTOR® to better the community. Some of the organizations I am involved with are: The Professional Development Committee, Texas Real Estate Political Action Committee, and Tyler Educational Networking Group. Some awards I have won were "The Hustle Award" in 2016, and "Rookie of the Year" in 2017. When I am not working with my clients, I like to spend quality time with my friends and family doing the following: running, target practice, read and participate in book club, and playing with my dachshund Greta.