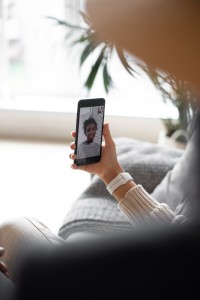 I always recommend that you see a home in person if at all possible. Your best perspective is the best perspective, because it is how you see the home in your eyes. But in this market, sometimes your schedule does not allow for the sellers schedule. Some sellers allow for the home to be shown for hours, days, weeks, or months. But if a seller recieves an offer they want, they may want to stop the home showing process, and move forward with a contract.
Reasons Why People Tour Homes Via Video Chat
Expensive Travel
Busy Work Schedule
Sick at Home
Babysitter Cancelled
Pros
View Home In Real Time Virtually

This still requires me to schedule a home showing appointment. I also will need to get seller permission for me to show you the home virtually.

View Details Virtually

Multiple Listing Services can limit how many photos real estate agents can upload to the system. However, when I do a virtual tour, I can showcase countertops, flooring, window treatments, etc.

Same Money on Travel

Airfare prices vary, but a virtual tour is more cost effective than a hotel stay, gas, car rental, etc.

Learn Home Layout

A real estate agent can upload the photos in whatever order they want. Sometimes, the photo order can alter your perseption of the actually home layout. As I walkthrough the home, I will be able to verbally inform about where I am walking, room locations, etc.
Cons
Angles of Rooms

Capturing the true size of a room can be challenging, and even more difficult on a cellphone video.

Cellphone Battery Life

Be prepared to charge your phone a lot.

Cellphone Data Plan

Videos can also use a lot of your phone data. (Yes, there are apps that can help, but it is still using a lot of your "phone juice")

Cellphone Reception

Especially depending on the weather and location, sometimes the image is blurry. Sometimes the video cuts out.
Consider The Following
Best to schedule appointments with as much notice as possible.
Remove as many distractions from the room as you can so you can focus.
Write down any questions that need answers from the sellers agent during the home showing. That way, you can email those to me, and I can ask the agent in a more efficent way. (Rather than pausing the video)
Write notes about what you liked, didn't like, and what questions you still have.
Understand sometimes there are things I can not control (weather, cell phone reception, shorten showing times due to odors,etc.)
---
Kelly Raulston

"Reliable and Ready" REALTOR® since 2016. I was born in Monroeville, Pennsylvania, but was raised in Texas since 1997. When I found out we were moving to Plano, Texas, I remember looking forward to riding a horse to school and a brand-new pair of cowboy boots! Growing up in Plano prepared me to be competitive, quick, and to have a strong work ethic. I graduated from Stephen F. Austin State University in Nacogdoches, Texas. Axe'em Jacks! That is where my love for East Texas began. The nature, warm smiles, football games, and community values can't be beat! I graduated summa cum laude with a degree in Interdisciplinary Studies. I was a middle school math teacher in Tyler, Texas. I met my husband, Travis, in Sunday school, and we have been married since September 2016. I love being a REALTOR® in East Texas! Relationships are genuine, the area is beautiful, and the market is rockin'! I am an involved REALTOR® to better the community. Some of the organizations I am involved with are: The Professional Development Committee, Texas Real Estate Political Action Committee, and Tyler Educational Networking Group. Some awards I have won were "The Hustle Award" in 2016, and "Rookie of the Year" in 2017. When I am not working with my clients, I like to spend quality time with my friends and family doing the following: running, target practice, read and participate in book club, and playing with my dachshund Greta.