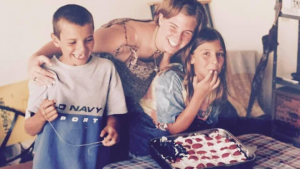 Homeowners get so excited when the celebrate their first holiday in their new home! Sometimes they create new traditions. Sometimes they continue traditions from one home to the next. In August 1997, my family moved from Pennsylvania to Texas. So our first Fourth of July in our Texas home, we had to have our American Flag Cake. Who knew a simple yellow box cake mix, with whipped cream, and strawberries and blueberries, would turn out to be a fun family tradition?
I remember when I was growing up, we would have family get togethers in Pennsylvania with the family. Sometimes the gatherings would be large with many uncles, aunts, and cousins. The picture provided is a picture of me, my younger brother Vincent, and my cousin Helen. Sometimes, the gatherings would be small; with just my immediate family and grandparents. But one thing stayed consistent; the American Flag cake.
My mom would make this every year for the Fourth of July. The combination of fruit, cake, and whipped cream is fantastic! You can go as simple or fancy as you want with the cake, and it still tastes delicious. This is a tasty way to incorporate red, white, and blue into your dessert!
The "American Flag" Cake
1 Box Cake (with all of the required ingredients that go with the box cake).

We typically used the yellow or white box cake, but you could really use any flavor.

Whipped Cream

There have been some years that we just bought it already made. There were some years we made the whipped cream from scratch. Either will do. You need enough just to frost the top of the cake.

Strawberries

Depends on how much fruit you want.

Blueberries

Depends on how much fruit you want.
Instructions
Bake the cake from the recipe provided on the back of the box.
Let the cake cool.
When the cake is cool to touch, top with whipped cream.
Wash and dry the berries. It is important that the berries are completely dry before you add them to the top of the cake. Any moisture will mix with the whipped cream.
With the berries, it depends on how much time you have. You can cut the strawberries up, and line them up to make stripes. Add the blueberries in the corner of the cake.
Voila! You have an American Flag cake.
Anytime we had extra berries or whipped cream, we would put them in a bowl off to the side (whipped cream in one bowl, berries in another bowl). Then we could add more whipped cream or berries to our cake. Or just eat the berries with whipped cream on top. YUM! As you can tell in the picture, I clearly loved this cake! Especially when I stole a berry or two off the cake. Hope you enjoy!
---
Kelly Raulston

"Reliable and Ready" REALTOR® since 2016. I was born in Monroeville, Pennsylvania, but was raised in Texas since 1997. When I found out we were moving to Plano, Texas, I remember looking forward to riding a horse to school and a brand-new pair of cowboy boots! Growing up in Plano prepared me to be competitive, quick, and to have a strong work ethic. I graduated from Stephen F. Austin State University in Nacogdoches, Texas. Axe'em Jacks! That is where my love for East Texas began. The nature, warm smiles, football games, and community values can't be beat! I graduated summa cum laude with a degree in Interdisciplinary Studies. I was a middle school math teacher in Tyler, Texas. I met my husband, Travis, in Sunday school, and we have been married since September 2016. I love being a REALTOR® in East Texas! Relationships are genuine, the area is beautiful, and the market is rockin'! I am an involved REALTOR® to better the community. Some of the organizations I am involved with are: The Professional Development Committee, Texas Real Estate Political Action Committee, and Tyler Educational Networking Group. Some awards I have won were "The Hustle Award" in 2016, and "Rookie of the Year" in 2017. When I am not working with my clients, I like to spend quality time with my friends and family doing the following: running, target practice, read and participate in book club, and playing with my dachshund Greta.