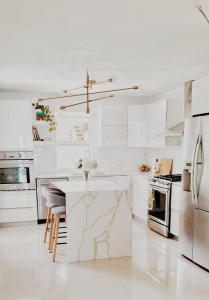 Before we put your home on the market, we also need to discuss non-realty items that can be extremely desirable to the buyer. Some of those items, also known as personal property or non-realty items, include your
Refrigerator
Washer
Dryer
Deep Freezer
Furniture
Patio Furniture
Prior to the supply chain challenges, many of these items used to be readily accessible. Currently, depending on the item (brand, finish, style, price), it could take days, weeks, months, or even years to obtain some of these items.
From the Texas Realtors Residential Real Estate Listing Agreement Exclusive Right to Sell document
"The house, garage and all other fixtures and improvements attached to the above-described real property, including without limitation, the following permanently installed and built-in items, if any: all equipment and appliances, valances, screens, shutters, awnings, wall-to-wall carpeting, mirrors, ceiling fans, attic fans, mailboxes, television antennas, mounts and brackets for televisions and speakers, heating and air-conditioning units, security and fire detection equipment, wiring, plumbing and lighting fixtures, chandeliers, water softener system, kitchen equipment, garage door openers, cleaning equipment, shrubbery, landscaping, outdoor cooking, equipment, and all other property attached to the above-described real property."
In addition "the following described related accessories, if any: window air conditioning units, stove, fireplace screens, curtains and rods, blinds, window shades, draperies and rods, door keys, mailbox keys, above-ground pool, swimming pool equipment and maintenance accessories, artificial fireplace logs, security systems that are not fixtures, and controls for: (i) garage doors, (ii) entry gates, and (iii) other improvements and accessories. "Controls" includes Seller's transferable rights to the (i) software and applications used to access and control improvements or accessories, and (ii) hardware used solely to control improvements or accessories."
Before You Home Goes On The Market
In the state of Texas, if the intent of the item was to be permanently installed, then the item would stay; unless the seller has excluded it from the sale. Anything not attached to the home is generally not included in the sale, unless the item is mutually agreed upon staying with the property.
It's all about communication.
A buyer can always ask for an item to stay with the home. You as the seller can say:
If you know for a fact that you will be taking refrigerator, washer, dryer, deep freezer, furniture, patio furniture, curtains, curtain rods, televisions, brackets for televisions, etc, please let me know in advance. However, if you are willing to negotiate items, or want to leave items, please also let me know in advance.
---
Kelly Raulston

"Reliable and Ready" REALTOR® since 2016. I was born in Monroeville, Pennsylvania, but was raised in Texas since 1997. When I found out we were moving to Plano, Texas, I remember looking forward to riding a horse to school and a brand-new pair of cowboy boots! Growing up in Plano prepared me to be competitive, quick, and to have a strong work ethic. I graduated from Stephen F. Austin State University in Nacogdoches, Texas. Axe'em Jacks! That is where my love for East Texas began. The nature, warm smiles, football games, and community values can't be beat! I graduated summa cum laude with a degree in Interdisciplinary Studies. I was a middle school math teacher in Tyler, Texas. I met my husband, Travis, in Sunday school, and we have been married since September 2016. I love being a REALTOR® in East Texas! Relationships are genuine, the area is beautiful, and the market is rockin'! I am an involved REALTOR® to better the community. Some of the organizations I am involved with are: The Professional Development Committee, Texas Real Estate Political Action Committee, and Tyler Educational Networking Group. Some awards I have won were "The Hustle Award" in 2016, and "Rookie of the Year" in 2017. When I am not working with my clients, I like to spend quality time with my friends and family doing the following: running, target practice, read and participate in book club, and playing with my dachshund Greta.