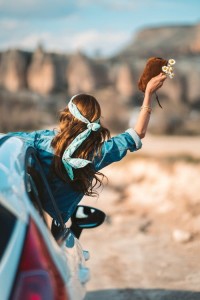 As the weekend is approaching, you may have a list of errands and projects you have been needing to complete.
Grocery shopping
Home projects
Friend/Family get togethers
Yes, sometimes, you need to get stuff done. But other times, you have an available weekend. Instead of sitting and binge-watching television, or aimlessly scrolling through social media, why not take a road trip in your home state? Whether it is 30 minutes, or 9 hours (depending on the state LOL), you would be surprised what changing your scenery has to offer!
Reasons Why to Travel In Your Home State
Support Your State Economically
When you travel to other cities in the same state, you have the opportunity to purchase items from local businesses. This provides an opportunity for a local business owner to do a happy dance with your purchase; as opposed to clicking "add to cart".
Visit Loved Ones
I remember visiting one of my cousins in another state, and she told me that she only gets to see her best friend a couple times a year. I asked about how far they lived apart, and my cousin informed me about 45 minutes. I was shocked! If you miss your loved ones, reach out to them and meet up! If schedules are difficult, then why not meet up halfway? This could be a fabulous way to reconnect and recharge for the week ahead!
Therapeutic Driving
Sometimes, when I am stressed out, or have a lot on my mind, going out for a drive really helps me clear my head for a little bit. Different roads, different highways, different scenery can help take your mind off of the stress. Think through, process, and focus on something else; like making sure you don't miss your next turn.
Check Out Open Houses
If you are curious about real estate in another city in your state, why not spend time going to a few open houses in that city? This gives you a great opportunity to learn about different home trends, home prices, and learn what the town has to offer!
Food
Even in the same state, there are many different styles of cooking. Each city seems to have a slightly different way they prepare food. Going to a different city means trying out restaurants you don't drive by 5 times a day. Also, why not bring a cooler and go to a grocery store in a different city.
New Local Attractions
Try out a new park. Hike on a new trail. Visit a different museum. Going to a new city means you get to explore the new city and all it has to offer!
---
Kelly Raulston

"Reliable and Ready" REALTOR® since 2016. I was born in Monroeville, Pennsylvania, but was raised in Texas since 1997. When I found out we were moving to Plano, Texas, I remember looking forward to riding a horse to school and a brand-new pair of cowboy boots! Growing up in Plano prepared me to be competitive, quick, and to have a strong work ethic. I graduated from Stephen F. Austin State University in Nacogdoches, Texas. Axe'em Jacks! That is where my love for East Texas began. The nature, warm smiles, football games, and community values can't be beat! I graduated summa cum laude with a degree in Interdisciplinary Studies. I was a middle school math teacher in Tyler, Texas. I met my husband, Travis, in Sunday school, and we have been married since September 2016. I love being a REALTOR® in East Texas! Relationships are genuine, the area is beautiful, and the market is rockin'! I am an involved REALTOR® to better the community. Some of the organizations I am involved with are: The Professional Development Committee, Texas Real Estate Political Action Committee, and Tyler Educational Networking Group. Some awards I have won were "The Hustle Award" in 2016, and "Rookie of the Year" in 2017. When I am not working with my clients, I like to spend quality time with my friends and family doing the following: running, target practice, read and participate in book club, and playing with my dachshund Greta.