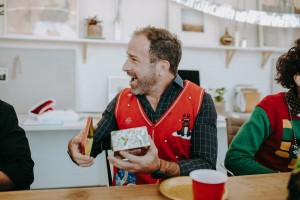 I will never forget attending my first "White Elephant" exchange party. My friends had explained to me that you were supposed to get a "funny gift" and the limit of the gift was $10.00 value. I had received a new spatula as a Christmas present, it still had the tag on it, and I had already had a spatula at the time. So I decided to bring that as my gift.
I arrive to the party, and there were wrapped "White Elephant" gifts underneath the tree. I was excited to see what people brought. It was my turn to pick, and I chose a big box. Well, it turned out that the big box had 5 different sized boxes, all wrapped, and I had to unwrap each one. It was hilarious, until I got to my gift.
It was a band-aid.
Not a box of band-aids. Literally ONE band-aid that was still in the wrapper. I was not amused, but, I decided at least I could keep the band-aid, and use it one day.
However, when it came to my spatula gift, apparently it was a good brand, because EVERYONE WAS FIGHTING OVER THE SPATULA. It was a spatula, and they all wanted it. That made me feel great, a little perplexed, but still it was nice that everyone wanted my gift!
In terms of purchasing a "White Elephant" gift, there are always TONS of gag gifts to purchase. However, a gag gift will ultimately turn into junk, which will turn into clutter, which will be an item taking up valuable storage space. Instead, purchase an unconventional item that people will actually use.
Kelly Raulston's Suggestions for White Elephant Gifts
**Let me preface this first with making sure the item is new, has the tag on it, and preferably in the packaging that it came in.**
Nail Clippers
Tweezers
Kitchen gadgets
Toilet paper
Food storage (Ziploc bags, plastic storage containers, etc)
A box of band-aids, or first aid kit.
Lottery tickets
Pet toys
Socks
Candy
Food
Soap
Writing utensils
The ultimate goal is to have fun with loved ones, laugh, and have a great time. However, if you can give a gift that people will use, they will most likely use it longer than one day. Your gift will be useful, instead of junk.
---
Kelly Raulston

"Reliable and Ready" REALTOR® since 2016. I was born in Monroeville, Pennsylvania, but was raised in Texas since 1997. When I found out we were moving to Plano, Texas, I remember looking forward to riding a horse to school and a brand-new pair of cowboy boots! Growing up in Plano prepared me to be competitive, quick, and to have a strong work ethic. I graduated from Stephen F. Austin State University in Nacogdoches, Texas. Axe'em Jacks! That is where my love for East Texas began. The nature, warm smiles, football games, and community values can't be beat! I graduated summa cum laude with a degree in Interdisciplinary Studies. I was a middle school math teacher in Tyler, Texas. I met my husband, Travis, in Sunday school, and we have been married since September 2016. I love being a REALTOR® in East Texas! Relationships are genuine, the area is beautiful, and the market is rockin'! I am an involved REALTOR® to better the community. Some of the organizations I am involved with are: The Professional Development Committee, Texas Real Estate Political Action Committee, and Tyler Educational Networking Group. Some awards I have won were "The Hustle Award" in 2016, and "Rookie of the Year" in 2017. When I am not working with my clients, I like to spend quality time with my friends and family doing the following: running, target practice, read and participate in book club, and playing with my dachshund Greta.