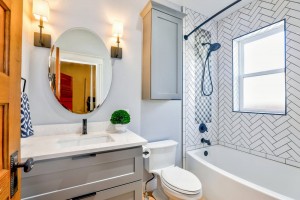 Some people don't like their current bathroom. Whether it is the size, functionality, tile, shower, tub, etc, they loved the house, and made a compromise on the bathroom. A lot of the time, people choose to remodel their bathroom. This is a great idea! I recommend you talk to a professional you trust to get the job done. Sometimes, a full bathroom remodel is not in the budget. Here are some easy and cost-effective alternatives that can really change up the space:
Deep Clean
Throw away all items that you do not currently use
Deep clean all grout, and possibly re-caulk areas
Wipe down all walls, floor, tub, shower, toilet
Wipe down all counter-tops, front/back of doors, inside/outside cabinets, inside/outside drawers
Replace Towels and Rugs
How long have you had your towels and bathroom rugs? Towels/Rugs do not have to be expensive. Changing the color of the towels and rugs can easily change up bathroom.
Paint
By repainting the bathroom, it can really spruce up the space. Especially if you apply makeup, the darker the paint color, the more it effects the lighting. Even if you end up end up going with the same color, fresh paint can do wonders.
Replace Light Bulbs
There are different colors of light bulbs that are available now. They range from yellow to blue. By changing the lightbulbs, it can improve brightness in your bathroom.
Replace Mirror
If your mirror is not attached to the wall, then changing the mirror can be a breeze. With so many different style mirrors, this can easily change the theme of your bathroom. If the mirror is attached to the wall, then be careful. It could be more expensive to remove, repair, repaint, and replace. If your bathroom mirror doesn't have a frame, this could be an easier cost effective way to change the mirror.
Replace Light Fixture
Just like replacing the mirror, changing the light fixture can also create a cohesive theme in the bathroom
Replace Knobs
A detailed way to be creative. You may have to repair and repaint vanity, but that could also spruce up the bathroom as well.
---
Kelly Raulston

"Reliable and Ready" REALTOR® since 2016. I was born in Monroeville, Pennsylvania, but was raised in Texas since 1997. When I found out we were moving to Plano, Texas, I remember looking forward to riding a horse to school and a brand-new pair of cowboy boots! Growing up in Plano prepared me to be competitive, quick, and to have a strong work ethic. I graduated from Stephen F. Austin State University in Nacogdoches, Texas. Axe'em Jacks! That is where my love for East Texas began. The nature, warm smiles, football games, and community values can't be beat! I graduated summa cum laude with a degree in Interdisciplinary Studies. I was a middle school math teacher in Tyler, Texas. I met my husband, Travis, in Sunday school, and we have been married since September 2016. I love being a REALTOR® in East Texas! Relationships are genuine, the area is beautiful, and the market is rockin'! I am an involved REALTOR® to better the community. Some of the organizations I am involved with are: The Professional Development Committee, Texas Real Estate Political Action Committee, and Tyler Educational Networking Group. Some awards I have won were "The Hustle Award" in 2016, and "Rookie of the Year" in 2017. When I am not working with my clients, I like to spend quality time with my friends and family doing the following: running, target practice, read and participate in book club, and playing with my dachshund Greta.