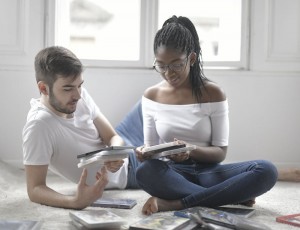 Nobody ever said,
"I regret organizing my house"!
Whenever I meet with sellers, and they ask, "what should we do to get started"? I always tell my clients to de-clutter and de-personalize! However, some people get very overwhelmed and intimidated by the process. My advice is to start with a plastic grocery bag and fill it up with items that you no longer need. If that overwhelms you, then start off with a small sandwich bag. If you need a helpful list of items that need to disappear, take a look at the list below:
Painful Shoes
Forgotten Candles
Excess Mugs
Empty Journals
Old Mattresses
Old Phones
Worn Out Pillows
Excess Shot Glasses
Rags
Old Computers
Phone Books
Old Halloween Costumes
Broken Furniture
Old Nail Polish
Damaged Dishes
Wire Hangers
Dead Batteries
Old Makeup
Lidless Containers
Clear Florist Vases
VHS Tapes
Expired Coupons
Old Takeout Menus
Glasses with Outdated Prescriptions
Last Year's Sunscreen
Unmatched Socks
Open Bottles
Old Condiment Packets
DVDs
Old Best Selling Books
Dated Reference Books
Expired Spices
Old Towels
Worn Sheets
Plastic Grocery Bags
Clothes that Do Not Fit Properly
Dated Magazines
Old Pens
Leftover Paint
---
Kelly Raulston

"Reliable and Ready" REALTOR® since 2016. I was born in Monroeville, Pennsylvania, but was raised in Texas since 1997. When I found out we were moving to Plano, Texas, I remember looking forward to riding a horse to school and a brand-new pair of cowboy boots! Growing up in Plano prepared me to be competitive, quick, and to have a strong work ethic. I graduated from Stephen F. Austin State University in Nacogdoches, Texas. Axe'em Jacks! That is where my love for East Texas began. The nature, warm smiles, football games, and community values can't be beat! I graduated summa cum laude with a degree in Interdisciplinary Studies. I was a middle school math teacher in Tyler, Texas. I met my husband, Travis, in Sunday school, and we have been married since September 2016. I love being a REALTOR® in East Texas! Relationships are genuine, the area is beautiful, and the market is rockin'! I am an involved REALTOR® to better the community. Some of the organizations I am involved with are: The Professional Development Committee, Texas Real Estate Political Action Committee, and Tyler Educational Networking Group. Some awards I have won were "The Hustle Award" in 2016, and "Rookie of the Year" in 2017. When I am not working with my clients, I like to spend quality time with my friends and family doing the following: running, target practice, read and participate in book club, and playing with my dachshund Greta.