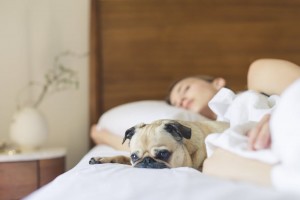 Sometimes during a real estate transaction, you may find yourself lying awake at night thinking the following thoughts...
Are the sellers going to accept my offer?
Are these buyers going to love my home as much as I do?
Did I make the right decision about....
What am I going to do about....
And then you look at the clock, and you realize you have to get up for work in 4 hours, then 3 hours, 2 hours....
My goal is to educate you and guide you throughout the real estate transaction. You are going to have questions. If you have questions, and its late at night, I encourage you to write them down on a piece of paper. I find that if you type your questions into a phone or tablet, then the light of the device actually keeps you more awake. Also, you may get distracted by other apps on your phone that are mentally engaging.
Here are Some Suggestions on How to Go to Sleep Faster:
At night, allow the room temperature to be between 60 degrees - 75 degrees. If you are concerned about budget, maybe consider raising the temperature during the day when you are not at home. But also, a smart programmable thermostat can help facilitate the temperature.
Get on a schedule. Some careers and lifestyles allow for a more consistent schedule, I completely understand that. But, if you can try to go to bed at the same time every night, this helps your body and mind get used to the fact that bedtime is at _:___PM
Invest in GOOD blackout curtains. When my husband and I purchased our home, the previous owner had custom blackout curtains made for the master bedroom. I absolutely LOVE those curtains (even though they are a color that doesn't match my decor). Since we moved into this home, I notice I sleep so much better with the blackout curtains.
Exercise during the day. I notice that when I work out early in the morning, I find that I am exhausted by the end of the day.
Turn off all electronics. I highly recommend the "Do Not Disturb" mode on the cellphone. This allows me to sleep without notifications all night long.
Now that you have read this article, you should have no problem going straight to sleep! You're welcome.
If it is nighttime, then go to sleep! Have a good night, and don't let the bed bugs bite.
---
Kelly Raulston

"Reliable and Ready" REALTOR® since 2016. I was born in Monroeville, Pennsylvania, but was raised in Texas since 1997. When I found out we were moving to Plano, Texas, I remember looking forward to riding a horse to school and a brand-new pair of cowboy boots! Growing up in Plano prepared me to be competitive, quick, and to have a strong work ethic. I graduated from Stephen F. Austin State University in Nacogdoches, Texas. Axe'em Jacks! That is where my love for East Texas began. The nature, warm smiles, football games, and community values can't be beat! I graduated summa cum laude with a degree in Interdisciplinary Studies. I was a middle school math teacher in Tyler, Texas. I met my husband, Travis, in Sunday school, and we have been married since September 2016. I love being a REALTOR® in East Texas! Relationships are genuine, the area is beautiful, and the market is rockin'! I am an involved REALTOR® to better the community. Some of the organizations I am involved with are: The Professional Development Committee, Texas Real Estate Political Action Committee, and Tyler Educational Networking Group. Some awards I have won were "The Hustle Award" in 2016, and "Rookie of the Year" in 2017. When I am not working with my clients, I like to spend quality time with my friends and family doing the following: running, target practice, read and participate in book club, and playing with my dachshund Greta.