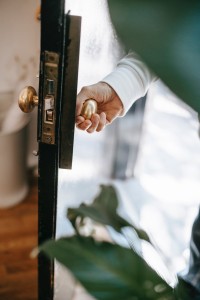 Every expert has once been a beginner. I am a human. I am not perfect. I know that people love to be entertained, and appreciate REAL people.
Many real estate agents have locked themselves out of the home they are showing. Many have set off a home alarm. The story I am about to share has actually happened to me three days before Christmas in 2018.
Chapter Five: I've Got One Hand in My Pocket...
These potential clients were interested in moving away from the hustle and bustle of the large city, and were interested homes that had a lot of acreage. They were interested in areas outside of Tyler,Texas. I had prepared them that there would be a lot of drivetime, and it being three days before Christmas, some sellers would not have their home available.
Once I had a copy of their current pre-qualification letter, I was able to then schedule 4 home showings. The distance from the first home and the last home were 1 hour and 15 minutes apart. This made for a lot of drivetime. Because of my other appointments later on in the day, we drove in separate cars.
I met the potential buyers and their three children at the first property. I walked up to the front door, and there was a combination lockbox. I opened the lockbox, and I opened the door with the key. I put the key in my pocket so I didn't lose the key. We walked around the house, the land, the shop. We were at the house for about an hour. With the 2nd appointment being 45 minutes away, and bathroom breaks needed, it was time to go. So I turned off the lights in the house, closed the lockbox, and we were on our way to the next appointment.
We saw the second house, buyers were not interested. So we were back in the car, and in an hour later, we were at the third house. We walked through the third house, spent about another 45 minutes at the home, and then we were off to the last home. Thankfully, it was only a 10 minute drive.
The buyers got out of the car, and it was an instant no. So, alas, it was time to say goodbye. They were great people, but I was tired, hungry, and ready to continue on the day. As I was saying goodbye, I discovered I had made a grave mistake.
I put my hand on my hip, and I felt something that was not supposed to be there.
I reached my hand in my pocket, and pulled out the key from the first house I had shown. The buyers looked at my hand and all recognized the key, and started consoling me! I was embarrassed because they knew that I had to do the "drive of shame" back to the first home… an hour and 15 minutes from the house, and 45 minutes from my home.
What Did I Learn From This Story?
Check my pockets before I leave the home.
Pack extra snacks on long drive days to help with fatigue.
Look, life happens. Espeically when you are involved in real estate, there are times where you want to be in 3 places at once. Not all is completely lost, because I have learned from my mistakes. Trust me, there will be more chapters of Embarrassing Home Showing Moments of Kelly Raulston. Thank you so much for reading! Hope you enjoyed it!
Additional Chapters of Embarrassing Home Showing Moments of Kelly Raulston
---
Kelly Raulston

"Reliable and Ready" REALTOR® since 2016. I was born in Monroeville, Pennsylvania, but was raised in Texas since 1997. When I found out we were moving to Plano, Texas, I remember looking forward to riding a horse to school and a brand-new pair of cowboy boots! Growing up in Plano prepared me to be competitive, quick, and to have a strong work ethic. I graduated from Stephen F. Austin State University in Nacogdoches, Texas. Axe'em Jacks! That is where my love for East Texas began. The nature, warm smiles, football games, and community values can't be beat! I graduated summa cum laude with a degree in Interdisciplinary Studies. I was a middle school math teacher in Tyler, Texas. I met my husband, Travis, in Sunday school, and we have been married since September 2016. I love being a REALTOR® in East Texas! Relationships are genuine, the area is beautiful, and the market is rockin'! I am an involved REALTOR® to better the community. Some of the organizations I am involved with are: The Professional Development Committee, Texas Real Estate Political Action Committee, and Tyler Educational Networking Group. Some awards I have won were "The Hustle Award" in 2016, and "Rookie of the Year" in 2017. When I am not working with my clients, I like to spend quality time with my friends and family doing the following: running, target practice, read and participate in book club, and playing with my dachshund Greta.