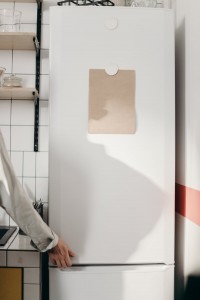 Here is some Friday Fun! Take a look at the list of food that is recommended to be in your home at all times. Of course, this list completely changeable due to any dietary needs. This list also depends on your lifestyle, how often you eat leftovers, and how many people live in your household. Total up your list, and see where you score!
Milk

Eggs

Peanut Butter

Baking Soda

Coffee/Tea

Bread

Butter

Salt and Pepper

Boxed/Canned Soups

Canned Beans

Rice

Pasta

Potatoes

Olive Oil

Vinegar

Soy Sauce

Corn Meal

Pasta Sauce

Ketchup

Mustard

Chicken

Ground Beed

Deli Meat

Cheese

Salsa

Flour

Sugar

Apples

Grapes

Oatmeal
25 Items or More: 5 Star Prepared Level
Congratulations! You are able to create many meals and snacks at quick notice!
19-24 Items: 4 Star Prepared Level
Way to Go! You have your go-to meals, but adding a few more items could change up the routine!
13-18 Items: 3 Star Prepared Level
Great Start! You have your essentials, but adding a few more items could help you save trips to the grocery store!
07-12 Items: 2 Star Prepared Level
A-Okay! You have bare essentials, but adding more items could aid in creating snacks and alternative meals at home!
6 Items or Less: 1 Star Prepared Level
Go to Grocery Store Today! Adding more of these food items will save you on trips to the grocery store and $$ from going out to eat.
---
Kelly Raulston

"Reliable and Ready" REALTOR® since 2016. I was born in Monroeville, Pennsylvania, but was raised in Texas since 1997. When I found out we were moving to Plano, Texas, I remember looking forward to riding a horse to school and a brand-new pair of cowboy boots! Growing up in Plano prepared me to be competitive, quick, and to have a strong work ethic. I graduated from Stephen F. Austin State University in Nacogdoches, Texas. Axe'em Jacks! That is where my love for East Texas began. The nature, warm smiles, football games, and community values can't be beat! I graduated summa cum laude with a degree in Interdisciplinary Studies. I was a middle school math teacher in Tyler, Texas. I met my husband, Travis, in Sunday school, and we have been married since September 2016. I love being a REALTOR® in East Texas! Relationships are genuine, the area is beautiful, and the market is rockin'! I am an involved REALTOR® to better the community. Some of the organizations I am involved with are: The Professional Development Committee, Texas Real Estate Political Action Committee, and Tyler Educational Networking Group. Some awards I have won were "The Hustle Award" in 2016, and "Rookie of the Year" in 2017. When I am not working with my clients, I like to spend quality time with my friends and family doing the following: running, target practice, read and participate in book club, and playing with my dachshund Greta.