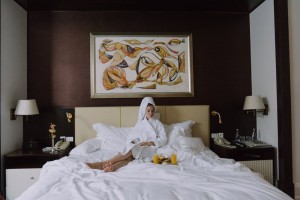 My husband and I recently took a vacation and traveled to visit friends and family during Memorial Day weekend. We are roadtrippers. We love being able to take our own car, the freedom to take breaks when needed, and being able to see new sights, and try new food.
There were times that we either stayed at our friends' and families' home, or at a hotel. With trial and error over the years, Travis and I realized that we need to bring the following in order to feel more at home.
Fan
In our current home, both of our bedrooms have a ceiling fan. We also have a ceiling fan in our kitchen and also in our breakfast area. When we first started roadtripping to friends' homes, we discovered they do not have ceiling fans. When we traveled outside of Texas, ceiling fans were not as common as we thought they would be. In fact, by the time Memorial Day comes around, some places in the USA have just turned off their heat.
However, Travis and I have become accustomed to air movement. We have tried sleeping with the window open; however, that can create more unnecessary noise, lack of wind, and decrease safety. So, we found a great fan to bring with us that it quiet and easy to transport in the car. It helps us sleep so much easier!
Seasonal Clothing
Ever year for Memorial Day, we go up to Indiana to the Indianapolis 500. Every year we have gone, it was usually hot. So, we have learned to pack for summer clothing. Then for the Indy500 this year (2021), there was a huge cold front. Low of 45 degrees and high of 70 degrees. Us Texans were NOT prepared for the cooler weather. We ended up purchasing winter clothes, and borrowing clothes from our family members. From now on, my husband and I are going to pack for all seasons… it was FREEZING!
Favorite Liquid Container
This could be a favorite mug, water bottle, etc. But drinking your beverage out of a familiar container can help you feel more at home.
Favorite Beverages
If we are really wanting a specific beverage (coffee, tea, creamer, soda, drink) and we know if will not be available for purchase, we like to bring a cooler with us during roadtrips. Also, the beverage can be cheaper if you bring it in advance as opposed to purchasing in a convivence store.
Pillows and Bedding
I have realized over the years that if I do not sleep with my ultra-firm pillow, I just do not get as much quality sleep. I also make sure before I am traveling to put my favorite pillow case on it, and also bring favorite blankets.
Footwear
In a hotel rooms, I do not like walking around with bare feet. Sometimes I bring slippers or flip flops to walk around the room in. I prefer to bring old ones that can be thrown out after the hotel stay.
---
Kelly Raulston

"Reliable and Ready" REALTOR® since 2016. I was born in Monroeville, Pennsylvania, but was raised in Texas since 1997. When I found out we were moving to Plano, Texas, I remember looking forward to riding a horse to school and a brand-new pair of cowboy boots! Growing up in Plano prepared me to be competitive, quick, and to have a strong work ethic. I graduated from Stephen F. Austin State University in Nacogdoches, Texas. Axe'em Jacks! That is where my love for East Texas began. The nature, warm smiles, football games, and community values can't be beat! I graduated summa cum laude with a degree in Interdisciplinary Studies. I was a middle school math teacher in Tyler, Texas. I met my husband, Travis, in Sunday school, and we have been married since September 2016. I love being a REALTOR® in East Texas! Relationships are genuine, the area is beautiful, and the market is rockin'! I am an involved REALTOR® to better the community. Some of the organizations I am involved with are: The Professional Development Committee, Texas Real Estate Political Action Committee, and Tyler Educational Networking Group. Some awards I have won were "The Hustle Award" in 2016, and "Rookie of the Year" in 2017. When I am not working with my clients, I like to spend quality time with my friends and family doing the following: running, target practice, read and participate in book club, and playing with my dachshund Greta.