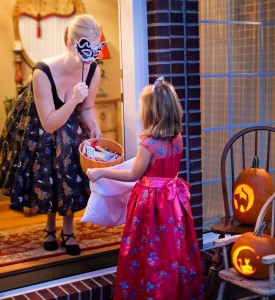 Halloween is a great opportunity to come together as friends and family, share some candy, and share some laughter. I love Halloween! I remember when I was a little girl growing up in Monroeville, PA that I got so excited about trick or treating! Picking out my costume was a big deal. I remember one Halloween that I wanted to be a witch. My mom had painted my face green, teased my hair, and I had my hat and costume ready to go! But, in Pennslyvania, sometimes on Halloween... it SNOWS! On that Halloween, I remember my mother telling me to put on my snowsuit over my costume.. and I was LIVID. My mother took the opportunity to snap a photo of my reaction. Arms crossed and ticked off, I made the perfect witch.
Whether you choose to dress up, have a party, go trick or treating, or watch scary movies at your home, however, you celebrate Halloween is the BEST WAY! However, you have decided you either want to sell your home or purchase a home during this time of year. If you have not sold your home, or found your new home, by the week prior to Halloween, here are some questions you need to consider.
"Spooky" Sellers
"When witches go riding, and black cats are seen. The moon laughs and whispers, 'tis near Halloween." - 19th-century postcard
Is Halloween your favorite holiday? Some people absolutely love Halloween, some people do not celebrate for multiple reasons, some people are indifferent, and some just want some candy.
Do you typically have an annual Halloween party? If so, we need to communicate. If this is something that could be rescheduled for next year in your new home, great! If celebrating Halloween in your current home is a non-negotiable, I respect that. If a buyer wants to see your home, and it is not an opportune time, we can always reschedule. If the buyer is serious, they will want to reschedule. With your party, try to think about food items, and décor items, that will be easier to clean up to make your home Camera Ready for the next day. How many days post Halloween do you need to get your home Camera-Ready? Do we need to temporarily take your home off the market?
Do you go all out with decorations? If so, just please be cognizant about décor that could damage your home (chipped paint, stains in carpet, etc.). Also, please make sure that if an inspection or an appraisal is scheduled around that time, that you decorate in a way that allows the professionals to do their job. For example, if there is an inspection, please make sure nothing blocks the attic access, electrical panel, etc. You have worked so hard to get your home ready to be on the market.
Do you turn your home into a haunted house? If you typically do, can you forgo the haunted house this year? Think about all of the hard work it took to make your home ready to show. If not, do we need to wait until after Halloween to list your home, or take it off the market? Remember the goals you would like to accomplish by selling your home.
What is your neighborhood like for Halloween? Any trick or treaters? Jam-packed with people? Then we just need to be able to communicate with potential buyers if they are scheduled to see your home.
What if someone wants to see your home on Halloween? Every showing you say YES to is a potential offer. Every showing you say NO to is a potential offer made on another home.
Is it possible to skip Halloween decorations? Hand candy out at a neighbor's home? Attend a trunk or treat instead?
If closing is around Halloween, do you need extra time to move? If so, we need to communicate this in advance. If the neighborhood is full of people and vehicles, it could make it difficult for movers to move your furniture.
"Bogeyman" Buyers
If there is a home you want to see on Halloween, be flexible. The seller could potentially have an annual party, or their schedule could be completely different that day. You also need to allow yourself more time to travel to the home as traffic could be completely different.
Great opportunity to see what your potential neighborhood is like! Is there a ton of trick or treaters? Does the neighborhood come together for a block party? Do the neighbors go all out on their decorations? Is the neighborhood pretty quiet?
"Listen to them - children of the night. What music they make!" -

Dracula

,

Bram Stoker
Does the Home Owners Association say anything about holiday décor?
If you just bought a home in the neighborhood, this is a great way to meet your neighbors!
"Nightmare" Negotiations
"She just goes a little mad sometimes. We all go a little mad sometimes. Haven't you?" - Norman Bates in

Alfred Hitchcock's

Psycho
Time is of the essence in real estate; regardless of what day of the week it is, or if it is a holiday. Option period ends at 5:00pm on the last day of option period; even if it is Halloween. So, if you are a buyer, and you want an option period, and you see that Halloween is a part of your option period, maybe take that into consideration. When you submit an offer, look at a calendar, and see what your schedule looks like. Maybe you need to ask for a longer option period time to account for Halloween? Just be prepared that the seller may want you to have a shorter option period time because of their schedule as well. Having an option period is optional but highly recommended.
We just need to communicate.
What if Halloween is the best available time for the appraiser, or inspector, or contractor to make repairs? Pushing any of these appointments could potentially delay closing.
Think. Communicate. Is it worth it?
At the end of the day, Halloween is not just a day for some people. It is a time of year that people come together to celebrate traditions, family, and fun. But, please revisit why you wanted to sell your home or purchase a new one!
---
Kelly Raulston

"Reliable and Ready" REALTOR® since 2016. I was born in Monroeville, Pennsylvania, but was raised in Texas since 1997. When I found out we were moving to Plano, Texas, I remember looking forward to riding a horse to school and a brand-new pair of cowboy boots! Growing up in Plano prepared me to be competitive, quick, and to have a strong work ethic. I graduated from Stephen F. Austin State University in Nacogdoches, Texas. Axe'em Jacks! That is where my love for East Texas began. The nature, warm smiles, football games, and community values can't be beat! I graduated summa cum laude with a degree in Interdisciplinary Studies. I was a middle school math teacher in Tyler, Texas. I met my husband, Travis, in Sunday school, and we have been married since September 2016. I love being a REALTOR® in East Texas! Relationships are genuine, the area is beautiful, and the market is rockin'! I am an involved REALTOR® to better the community. Some of the organizations I am involved with are: The Professional Development Committee, Texas Real Estate Political Action Committee, and Tyler Educational Networking Group. Some awards I have won were "The Hustle Award" in 2016, and "Rookie of the Year" in 2017. When I am not working with my clients, I like to spend quality time with my friends and family doing the following: running, target practice, read and participate in book club, and playing with my dachshund Greta.