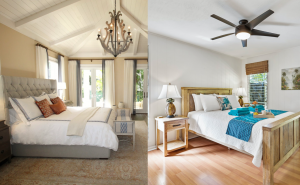 For the first eight years of my life, I lived in Pennsylvania, and from my recollection, I believe we just had light fixtures in the home. If it was warm, we would just open up the windows, or go outside. But, then, we moved to Texas, that all changed.
I still believe to this day the HOTTEST summer I EVER went through was the summer we moved down to Texas in 1997. As a kid, when I thought about moving to Texas, all I thought about was just being able to swim in the swimming pool, and eating popsicles. However, what did help, were the ceiling fans we had in the house.
My parents also wanted to save money on their electric bill, so they wouldn't have the temperature super cold in the house. We always used to get in trouble as kids when we would try to change the thermometer. We still get in trouble if we change the thermometer. But, the saving grace was having the ceiling fan in the living room, and some of the bedrooms. The movement of air made a huge difference.
Side Note: If you are a Texas Resident, I HIGHLY SUGGEST that you go to powertochoose.org to pick the best energy provider for your household; that is available to you.
My husband and I are strong believers of having ceiling fans in the bedrooms of the house, and the living room. As we are remodeling our new home, we did have some discussion over a ceiling fan in the primary bathroom. I really wanted a modern chandelier, and Travis wanted another ceiling fan. Marriage is about compromise, and I gently reminded him that we already had a ceiling fan in the primary bedroom… which is attached to the primary bathroom.
I love the look of chandeliers and light fixtures in the bedrooms. They are so elegant, and they are the perfect accessory to any room; just like jewelry is the perfect accessory for any outfit. (I got that from a great local designer!) Our friends in states other than Texas, do not have ceiling fans in the bedroom. Because of this, sometimes, Travis and my quality of sleep is not the best. We usually either bring a fan or buy one from a store locally and use it.
So, all and all, it depends on you. But, I recommend you consider the following:
Do you need additional airflow in the bedroom?
Is there a light fixture that would be the perfect accessory for the primary bedroom?
Can you change the comforter to opt for a lighter one in summer, and heavier one in winter?
When is the last time you have had your HVAC checked on?
Are you warm natured?
All and all, you can always try out light fixture vs. ceiling fan. If you don't like it, you can change back. You can also go for the ceiling fan that has the light with it. It may work with your bedroom design, it may not. At the end of the day, as long as you are happy, that's all that matters!
---
Kelly Raulston

"Reliable and Ready" REALTOR® since 2016. I was born in Monroeville, Pennsylvania, but was raised in Texas since 1997. When I found out we were moving to Plano, Texas, I remember looking forward to riding a horse to school and a brand-new pair of cowboy boots! Growing up in Plano prepared me to be competitive, quick, and to have a strong work ethic. I graduated from Stephen F. Austin State University in Nacogdoches, Texas. Axe'em Jacks! That is where my love for East Texas began. The nature, warm smiles, football games, and community values can't be beat! I graduated summa cum laude with a degree in Interdisciplinary Studies. I was a middle school math teacher in Tyler, Texas. I met my husband, Travis, in Sunday school, and we have been married since September 2016. I love being a REALTOR® in East Texas! Relationships are genuine, the area is beautiful, and the market is rockin'! I am an involved REALTOR® to better the community. Some of the organizations I am involved with are: The Professional Development Committee, Texas Real Estate Political Action Committee, and Tyler Educational Networking Group. Some awards I have won were "The Hustle Award" in 2016, and "Rookie of the Year" in 2017. When I am not working with my clients, I like to spend quality time with my friends and family doing the following: running, target practice, read and participate in book club, and playing with my dachshund Greta.