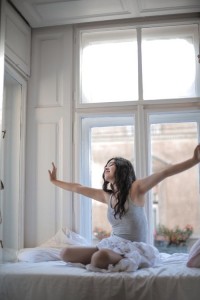 It's finally the weekend! You may already have a weekend that is packed full of activities and tasks that you need to get done. But, maybe you are struggling with rest, productivity, money, or health.You only need to pick one challenge. You could do all of these challenges. But take an opportunity to pick a challenge that you know you could do!
Challenge #1
Go to Bed One Hour Earlier
Many people do not get enough sleep throughout the week. A lot of the time it is because the goal of trying to balance of work, life, and responsibilities is unsuccessful. So, some people look forward to the weekend so that they can stay up late. However, challenge yourself to go to bed one hour earlier than you normally do. Give yourself the opportunity to sleep longer, and rest longer; so you are recharged for the next day!
Challenge #2
Wake Up One Hour Earlier
Again, many times people over the weekend like to sleep in. But then, sometimes people fail to complete everything they wanted to accomplish. So, challenge yourself to wake up an hour earlier. This gives you at least an extra hour to get ready, complete chores, read, have "me time", etc. My husband and I have found that do not want to waste our weekend sleeping it away. We look forward to waking up earlier so we can enjoy the day.
Challenge #3
Get Rid of One Trash Bag Full of Unwanted Items
Whenever I go on a listing appointment, my sellers always as what they need to do. I always start off with de-clutter and de-personalize. Sometimes, people become overwhelmed with the process. So, this weekend, challenge yourself to get rid of just one trash bag full of unwanted items. The rule is easy: Fill it with items you no longer use or want. Depending on the items in the bag, you may donate or toss in the garbage.
Challenge #4
Drink One Gallon of Water
I have recently gotten back into the habit of drinking a gallon of water a day. I will admit, in the beginning, I thought it was going to be challenging because water was not my go to drink. But, since I have challenged myself to drink a gallon of water, I enjoy it! My skin looks better, I feel more energized, and many more other benefits.
Challenge #5
Cook Three Meals at Home
On the weekends, people love to go out to eat. I am one of those people. I love to try new restaurants, not have to clean the dishes, and I like to get out of my house. Challenge yourself to cook three meals at home. That could be two breakfasts and a lunch, that could be two dinners and a breakfast. Cooking at home tastes better, saves you money, and can save you time.
Challenge #6
Exercise an Hour A Day
Sometimes, people sit on the couch the whole weekend, and not move their body. Some people are intimidated by exercise. Start small. This could be going on a walk with your friend. This could be parking your car as far as possible in the parking lot to walk to the store. You could go to the gym or download a video online. But moving your body can give you energy, and then when you finish, you can take time to rest.
---
Kelly Raulston

"Reliable and Ready" REALTOR® since 2016. I was born in Monroeville, Pennsylvania, but was raised in Texas since 1997. When I found out we were moving to Plano, Texas, I remember looking forward to riding a horse to school and a brand-new pair of cowboy boots! Growing up in Plano prepared me to be competitive, quick, and to have a strong work ethic. I graduated from Stephen F. Austin State University in Nacogdoches, Texas. Axe'em Jacks! That is where my love for East Texas began. The nature, warm smiles, football games, and community values can't be beat! I graduated summa cum laude with a degree in Interdisciplinary Studies. I was a middle school math teacher in Tyler, Texas. I met my husband, Travis, in Sunday school, and we have been married since September 2016. I love being a REALTOR® in East Texas! Relationships are genuine, the area is beautiful, and the market is rockin'! I am an involved REALTOR® to better the community. Some of the organizations I am involved with are: The Professional Development Committee, Texas Real Estate Political Action Committee, and Tyler Educational Networking Group. Some awards I have won were "The Hustle Award" in 2016, and "Rookie of the Year" in 2017. When I am not working with my clients, I like to spend quality time with my friends and family doing the following: running, target practice, read and participate in book club, and playing with my dachshund Greta.