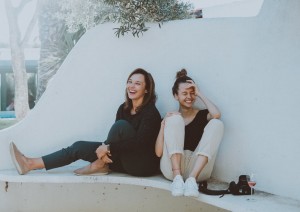 Every expert has once been a beginner. I am a human. I am not perfect. I know that people love to be entertained, and appreciate REAL people.
Many real estate agents have locked themselves out of the home they are showing. Many have set off a home alarm. The story I am about to share has actually happened to me when I first got my real estate license.
Chapter Two: What's That Noise?
I had just gotten my real estate license, and I was working with investors who wanted to purchase a multi-family unit. We found a duplex that was close to where the investors lived, and not too far from one of their other properties; and they wanted to see the inside. I contacted the listing agent to schedule an appointment, and they informed me that I needed to schedule my appointment 24 hours in advance; because both sides were occupied. So, I had scheduled an appointment and received confirmation about showing the left side of the duplex, and the agent had informed us that both sides were similar. My clients were ok with just seeing the left side of the duplex.
We arrived at the property, and we were informed that both tenants were at the property. We walked the one side of the property, with the tenant there, and my clients were interested. I submitted my client's offer, and after a bit of negotiating, my clients' offer got accepted. Once, we had an accepted offer, my clients really wanted to see the right side of the duplex. So, I called, made an appointment 24 hours in advance. The listing agent had confirmed that we would be able to see the right side. We arrived to the property, I got the keys and opened the door to the right side of the duplex.
As I opened the door, all of the lights were off and the curtains were closed. At the time, I thought this was normal because maybe the tenant wanted to not use as much money on energy, and keep the house cooler. As I walked around turning on lights, I heard a noise that sounded like a loud machine. My clients commented on it as well, and we continued to walk through the property. We looked in the guest bathroom, the noise got louder, but we couldn't find the source. We looked in two other bedrooms, the noise grew even louder, but we still couldn't figure out what this loud machine-like noise was. Then, I opened the primary bedroom.
The tenant, was asleep in their bed, with their shower cap on, and snoring pretty loudly. I was completely shocked because we had confirmed the appointment. All I could think of in that moment was "Oh my gosh! Oh my gosh!! We have to get out NOW!" My clients were understanding, but pretty frustrated because they really wanted an opportunity to see the entire duplex. We left the right side. My clients ended up coming back to the property with the inspector for them to view the entire property.
What Did I Learn From This Story?
Double-check with the listing agent if ANYONE is going to be at the property.
As I enter the property, lock loudly and announce "Hello! I am a REALTOR!"
If possible, have buyers attend the home inspection while the inspector is there.
At the end of the day, we are all human, and going to make mistakes. Also, in real estate, even though people think all REALTORS deal with is home stuff, that's only part of it. REALTORS have to facilitate the relationship with PEOPLE. REALTORS have to communicate, persuade, explain, listen, negotiate, etc… with people. But, if you can learn from the mistakes, then not all is completely lost. Trust me, there will be more chapters of Embarrassing Home Showing Moments of Kelly Raulston. Thank you for reading! Hope you enjoyed it!
Additional Chapters of Embarrassing Home Showing Moments of Kelly Raulston
---
Kelly Raulston

"Reliable and Ready" REALTOR® since 2016. I was born in Monroeville, Pennsylvania, but was raised in Texas since 1997. When I found out we were moving to Plano, Texas, I remember looking forward to riding a horse to school and a brand-new pair of cowboy boots! Growing up in Plano prepared me to be competitive, quick, and to have a strong work ethic. I graduated from Stephen F. Austin State University in Nacogdoches, Texas. Axe'em Jacks! That is where my love for East Texas began. The nature, warm smiles, football games, and community values can't be beat! I graduated summa cum laude with a degree in Interdisciplinary Studies. I was a middle school math teacher in Tyler, Texas. I met my husband, Travis, in Sunday school, and we have been married since September 2016. I love being a REALTOR® in East Texas! Relationships are genuine, the area is beautiful, and the market is rockin'! I am an involved REALTOR® to better the community. Some of the organizations I am involved with are: The Professional Development Committee, Texas Real Estate Political Action Committee, and Tyler Educational Networking Group. Some awards I have won were "The Hustle Award" in 2016, and "Rookie of the Year" in 2017. When I am not working with my clients, I like to spend quality time with my friends and family doing the following: running, target practice, read and participate in book club, and playing with my dachshund Greta.