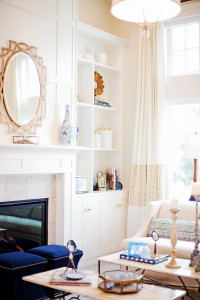 Mirrors
Hanging a mirror across from a lighting source can add more light and make the room appear larger.
Less is More with Furniture
Furnish your room with only pieces you really need. Over furnished homes can appear cluttered, and smaller than reality. In order to showcase as much natural light, avoid blocking windows with furniture.
Add a Rug
Adding a rug can make a room feel more inviting, especially the floors are hardwood or tile. However, choosing a rug that is too small can result in making a room look smaller.
Hang Curtains Higher Than Window
This will give the illusion of larger windows, and draw the eye upward. Just make sure that the curtains also touch the floor as well.
Paint Colors
Colors to Choose and Avoid in Your Home
Swap Out Throw Pillows and Lamp Shades
Multiple lamps in one room? Depending on the style of the light stand, you might want to play around with the idea of either matching, complimenting, or differing shades. I also suggest to change out the light bulbs to those that are LED. If you like the actual pillow, you can always create a pillowcase in a new fabric or can purchase a new pillowcase.
Keep It Clean
Items in Your Home that Need to Disappear
Ways to Make House Cleaning Fun
---
Kelly Raulston

"Reliable and Ready" REALTOR® since 2016. I was born in Monroeville, Pennsylvania, but was raised in Texas since 1997. When I found out we were moving to Plano, Texas, I remember looking forward to riding a horse to school and a brand-new pair of cowboy boots! Growing up in Plano prepared me to be competitive, quick, and to have a strong work ethic. I graduated from Stephen F. Austin State University in Nacogdoches, Texas. Axe'em Jacks! That is where my love for East Texas began. The nature, warm smiles, football games, and community values can't be beat! I graduated summa cum laude with a degree in Interdisciplinary Studies. I was a middle school math teacher in Tyler, Texas. I met my husband, Travis, in Sunday school, and we have been married since September 2016. I love being a REALTOR® in East Texas! Relationships are genuine, the area is beautiful, and the market is rockin'! I am an involved REALTOR® to better the community. Some of the organizations I am involved with are: The Professional Development Committee, Texas Real Estate Political Action Committee, and Tyler Educational Networking Group. Some awards I have won were "The Hustle Award" in 2016, and "Rookie of the Year" in 2017. When I am not working with my clients, I like to spend quality time with my friends and family doing the following: running, target practice, read and participate in book club, and playing with my dachshund Greta.